2019 MIND MAPPING SOFTWARE TRENDS SURVEY
by Chuck Frey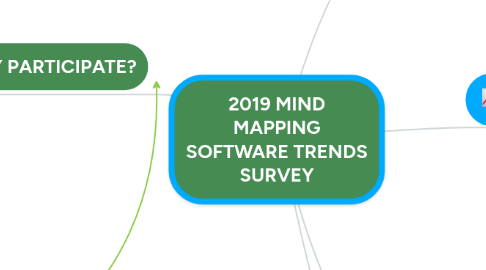 1. Bottom-line benefits
1.1. Time savings (hrs.)
1.2. Biggest benefit
1.3. Productivity increase (%)
1.4. Creativity increase (%)
2. Numerous applications
3. Types of thinking enabled
3.1. Brainstorming
3.2. Thinking/planning
3.3. Research
3.4. Project/task management
4. Work improvement
4.1. How has it changed how you work?
4.2. What specific areas of improvement does it enable?
4.3. Quality of work it enables
4.4. Confidence working with mind mapping software
4.5. Tackle complex projects easily
5. WHY PARTICIPATE?
5.1. Benchmark best practices used by your peers
5.1.1. How ELSE should you be using it?
5.1.2. Get maximum VALUE from it!
5.2. Help quantify what mind mapping software makes possible
5.2.1. Expand its influence as a valuable business tool
5.2.2. "The savvy executive's secret weapon!"
5.3. Build a strong case for your team to use it and your boss to support it
5.3.1. Demonstrate proof of its value
5.3.2. Explain its benefits to others
5.4. Tell me where you're getting stuck with mind mapping software
5.4.1. Help me provide the right knowledge and resources to meet YOUR needs
5.5. Share your opinions to help shape the future of mind mapping software
5.5.1. Tell software developers what you NEED
5.6. Support the global community of mind mappers
5.6.1. We're all in this together
5.6.2. Your opinion matters!
5.7. I share abundant resources, learing and insights with you - please return the favor!
6. TAKE THE SURVEY NOW!