Celine van Es & TOK Essay Title: "Others have seen what is and asked why. I have seen what could be and asked why not" (Pablo Picasso). Explore this distinction with reference to two areas of knowledge.
by celine van es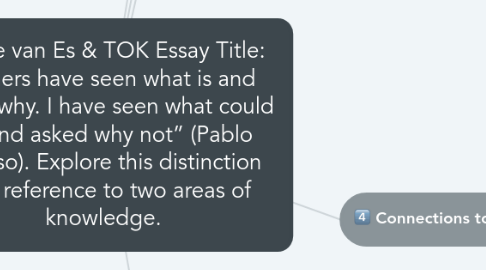 1. Keywords
1.1. others: the rest of society or in Picasso's case the viewers who dont understand his work
1.2. why: ask how something is or how something became they want to know the context
2. Key Phrases
2.1. Have seen: she what is real or existing but don't go beyond that knowledge
2.2. What could be: use existing knowledge to create new knowledge
2.3. Why not: there is no reason why people shouldn't create new knowledge that could benefit the world
2.4. What is: what is already existing (imperial knowledge)
3. Rewrite
3.1. People always ask why something is or how it came to be but never explore or use their imagination to ask what could be
4. Rewrite
4.1. Art
4.1.1. Fine art
4.1.1.1. Art is very subjective and personal because what someone finds aesthetically pleasing someone else may not. in order to produce new knowledge in the arts artists must show things or ideas from a different perspective and in an interesting way that will provoke emotions and may be controversial to gain attention to allow the artist to share their knowledge with the world
4.2. Ethics
4.2.1. Law
4.2.1.1. Many factors influence decision making in law especially when creating and passing laws. How does culture, behavioural norms affect decision making in court rooms and in legislation? There are basic set of ethical rules that people in law need to follow to stay ethical and fair to who they represent and society but how do governments set these rules and when should they change to meet the changing society.
5. Connections to Classes
5.1. Fine arts
5.1.1. Arts: Fine arts
5.1.1.1. C: In order to produce works of Art, traditions must be broken.
5.1.1.1.1. Kandinsky and Mondrian had very similar ideas. Both of the artists wanted to visually show an object or idea through simple lines and shapes.
5.1.1.2. CC: Traditions can be broken but they will always be linked to traditions
5.1.1.2.1. Neoclassical, romanticism, realism all had closed compositions and during the industrial revolution there were many advances in art technology such as cameras. Photography allowed him to take photos from interesting angles and saved him time because he no longer had to sketch what he was going to paint.
5.2. Law
5.2.1. Women who helped build the first spaceship - what the film hidden figures is based on. The civil rights movement in America
5.2.2. Ethics - Law
5.2.3. Civil rights movement in America. There was segregation between race and laws that forbid African Americans from doing basic things and living a normal life. The Civil Rights Act ended segregation in public places and in the workplace.
5.2.3.1. Intuition, imagination
5.2.3.2. Historical development
5.2.3.2.1. C: With passing laws that may go against the traditions of society could change the society we live in to allow individuals to live better and more meaningful lives.
5.2.3.2.2. CC: Passing laws to prevent something from occurring doesn't abolish it completely
5.2.4. UN supporting and not punishing drug use. Man y countries are behind this such as England, Spain, France etc http://www.drugpolicy.org/blog/support-dont-punish-people-who-use-drugs https://www.talkingdrugs.org/support-dont-punish-global-day-of-action-a-focus-on-women-who-use-drugs-26619
5.3. Physics
5.3.1. Natural sciences - engineering
5.3.2. Elon Musk - sending people to space
5.3.2.1. In science classes or science in general, we always ask why something is what it is but we never ask what we do make or do with what we know
5.3.2.1.1. Intuition
5.3.2.1.2. Methodology
5.3.2.2. Connection
5.3.2.2.1. WOK
5.3.2.2.2. Framework Area