Empowerment Technologies
by John Ghio A Lopez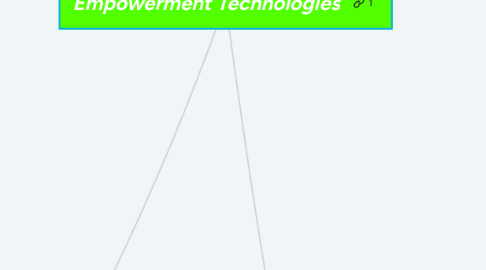 1. Blogging Platforms
1.1. Website like wordpress, Tumblr, And Blogger focus on content and design
2. Social Media Platforms
2.1. Website like facebook allow you you to create not only personal accounts but also pages and group where you can share content.
3. Online Platform For ICT Content Development
4. Basic Web Page Creation
5. Collaborative ICT Development
6. Interactive Multimedia
7. Content Management System
7.1. A content management system (CMS) is a computer application that allows you to publish, edit and manipulate, organize and delete web content.
8. Wordpress
8.1. A free Blogging Platform
9. Preview Window
9.1. Shows you to gow the website would look like with the applied changes
10. Preview Selection
10.1. Allows you to select what the preview window is showing
11. Customization Tools
11.1. Allow you to customize the design, change the color and header, select a front page, add site widgets, and change the site title
12. WYSIWYG
12.1. Is the acronym for "What You See Is What You Get
13. Other ways to create Websites
13.1. People use HTML code and CSS to design them.
14. Creating your own site using Jimdo
14.1. Jimdo is a WYSWYG web hosting site
15. Inserting page
16. Editing Elements
17. Header
17.1. Allow you to edit and text and change its font size
18. Image
18.1. Allow you to upload photo directly from your computer or a dropbox account
19. Kinds Of Tools
19.1. Align Tools
19.1.1. Used to left, Right, Down, Up , and center the page
19.2. Rotate Tools
19.2.1. Used to rotate and image
19.3. Sizing Tools
19.3.1. Used to make image larger or smaller from its orginal size
19.4. View Tools
19.4.1. Used to enlarge photo, Link photo, and Remove link
19.5. Other Tools
19.5.1. Caption and Alternative text
20. Paragraph
21. Adding Elements
21.1. Heading
21.1.1. To insert heading type of text
21.2. Text
21.2.1. TO insert a paragraph
21.3. Photo
21.3.1. To insert a single photo
21.4. Text with Photo
21.4.1. To insert a photo surrounding by text
21.5. Photo Gallery
21.5.1. To insert a multiple photos
21.6. Horizontal Line
21.6.1. To insert a horizontal lines that acts as divider
21.7. Spacing
21.7.1. To add space with a specified size
21.8. Columns
21.8.1. To insert column that divide an are vertically
21.9. Video
21.9.1. To insert a video from a video hosting site
21.10. Form
21.10.1. Creates a send an email form for feedback
21.11. Store Item
21.11.1. Adds space for selling an item( online shopping )
21.12. Share Buttons
21.12.1. Add buttons for the site visitor to share you website
21.13. Additional Elements
21.13.1. Includes other options like google maps, downloads, widgets, and etc.
22. Site Settings
22.1. Templates
22.1.1. Change the design
22.2. Style
22.2.1. Change design style like color
22.3. Blog
22.3.1. Creates blog for your website
22.4. Upgrade
22.4.1. Upgrade to pro's
22.5. Settings
22.5.1. Change aaccounts and website settings
22.6. SEO
22.6.1. Search Engine Optimization
22.7. Store
22.7.1. Manage the orders made from your website
22.8. Statistics
22.8.1. View your site's statistics
22.9. Help
22.9.1. Access to jimdo's help archive
23. Web Portals
23.1. Is a website that contains information from a different sources and places them in one location in a uniform way
24. Online Collaborative Tools
24.1. Working together does not necessarily mean you have to be physically together
25. Trello
25.1. A free tool used for online collaborations
26. Yammer
26.1. Another free tool that can be used for online collaborations
27. Members
27.1. Tags members on the card
28. Labels
28.1. Adds labels found on the top card
29. Position
29.1. Arranges the position of the card in relation to other cards
30. Interactive Multimedia Content
30.1. Videos
30.1.1. Through Video Hosting sites, you can take a video and show it to the entire world
30.2. Sound, Music, or Audio
30.2.1. If videos are too much for you, you can always record sounds.
30.3. Onlines Games
30.3.1. Game Developer now create what is called "Browser-based games" you do not need to install this as they run this in most updated website.
30.4. Courseware
30.4.1. Online surveys forms and test that automatically displays the results when finished
30.5. Podcast
30.5.1. An episodic series of audio or text file streamed online like TED talks
30.6. Vodcast
30.6.1. An Episodic series video streamed online show like good mythical morning.
31. Embed
31.1. To place an object from one site to another
32. Multimedia
32.1. Uses multiple media contents like videos, sounds, application, etc
33. Cloud Computing
33.1. Advantages
33.1.1. No need to install
33.1.2. Saves hard disk space
33.1.3. Easy access to software
33.1.4. Updates automatically
33.1.5. Minimum system requirements
33.1.6. Security risk
33.1.7. Easy backup and data recovery
33.2. Disadvantages
33.2.1. Prone to hacking
33.2.2. Don't own software, just renting
33.2.3. Can be hampered by slow internet
33.2.4. Require compatible software
33.2.5. Limited Control on insfrastructure