Digital Tools for Formative Assessment
by Deborlee Mitschele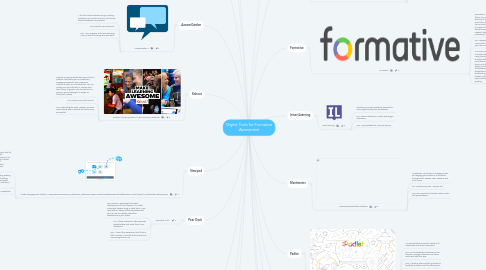 1. Edpuzzle
1.1. Edpuzzle
1.1.1. Allows you take a video and insert a quiz. Then to track your students' progress. The basic account is free.
1.1.2. Pro- Videos are engaging to students. So adding them to our lessons will increase student engagement.
1.1.3. Con-Learning curve for for teachers who have little technology experience.
2. Edlastic
2.1. Edulastic
2.1.1. Online formative and summative assessment tool. The program has a vast collection of standards. Teachers have the ability to use premade questions or create their own questions.
2.1.2. Pro- Instant feedback for the student and teacher.
2.1.3. Con- Program has some quirks that make it not user friendly.
3. FlipGrid
3.1. Flipgrid
3.1.1. Video discussion platform. Allow students to respond to questions, and form reflections in the form of videos.
3.1.2. Pro- Students love to use Flipgrid. It is free!
3.1.3. Con- Setting up your first Flipgrid takes trial and error. Teachers with little confidence to "play" with an app, could be nervous and unmotivated to use in their classrooms.
4. Gimkit
4.1. https://www.gimkit.com/
4.1.1. Some refer to Gimkit as Kahoot on steroids. This app was developed by a high school student. It gives the student exposure to questions more than once to so the information is mastered. Success in correct answers allows students to earn money for in game purchases.
4.1.2. Pro- Developed toward secondary level students. Can be used for homework as well as in class setting. Allows for student developed questions.
4.1.3. Con- In free version there are limited number of Kits, Edits No Audio questions and no image uploads.
5. Classkick
5.1. Classkick - Helping Teachers Be Awesome
5.1.1. This app allows teachers to post assignments for students, so both the teacher and peers can provide feedback on the assignment. Students can monitor their progress and work.
5.1.2. Pro-Allows teachers to personalize their lessons. See the whole class in real time.
5.1.3. Con- Free version only allows teachers 20 lessons. If teacher upgrades to pro the teacher gets unlimited lessons.
6. Formative
6.1. Formative
6.1.1. Formative is a free online assessment tool that is very robust. Formative allows teachers to choose pre-made assessments and edit to fit your needs, create your own from scratch, or even upload a PDF or doc to create. They also offer some fantastic data that you can track and intervene when needed. (FREE and integrates with Google Classroom!)
6.1.2. Pro- Integrates with Google Classroom. Premade materials ready to use. Upload your own PDF materials.
6.1.3. Con-Free version only has these accepts: Unlimited assignments/assessments, teach using live student responses, return scores and give feedback. These accepts are just some that are missing: advanced question types, anti-cheating: detect copied answers, assign to individuals, custom formative/assign settings, custom score thresholds and colors, emojis in student feedback, group scoring/feedback, lock classes, randomize results, schedule open/closed times, set answer key while grading.
7. AnswerGarden
7.1. AnswerGarden »
7.1.1. A tool for online brainstorming or polling, educators can use this real-time tool to see student feedback on questions.
7.1.2. Pro-Great for visual learners.
7.1.3. Con- Main purpose is for brainstorming. Also no way of knowing who said what.
8. IntsertLearning
8.1. InsertLearning
8.1.1. Teachers can insert questions, discussions, and insight directly into any website.
8.1.2. Pro- Chrome Extension. Makes web pages interactive.
8.1.3. Con- Only available for Chrome devices.
9. Kahoot
9.1. Kahoot! | Learning Games | Make Learning Awesome!
9.1.1. Kahoot! is a game-based learning and trivia platform that allows you to create very engaging quizzes for your classroom. Kahoot! is super fun and addictive. You can create your own kahoots, or choose from their library of games. Play live kahoots, in groups, issue challenges, or assign as homework. (FREE)
9.1.2. Pro- Free!!! Fun!!! Kids love it!!
9.1.3. Con- Gets students really "jazzed" up and a quiet activity after a Kahoot will not be very successful!!
10. Mentimeter
10.1. Interactive presentation software
10.1.1. Mentimeter can get your message across and engage your audience or students through polls, quizzes, Q&A sessions and much more.
10.1.2. Pro- Great survey tool. Easy to use.
10.1.3. Con-Free version has limited audience size and presentations.
11. Nearpod
11.1. Student Engagement Platform- Nearpodiconoiconoicono_slideicono_slideDraw ItOpen Ended-QuestionQuizPollCollaborate!VR Field TripsFill in the BlanksMatching Pairs
11.1.1. Nearpod is an interactive classroom tool for teachers to engage students with interactive lessons. Nearpod allows you to create and share lessons that sync across devices and encourage student participation, and evaluate student responses through comprehensive reporting.
11.1.2. Pro-Save prep time by importing existing lessons (pdfs, jpegs, ppts) and adding Virtual Field Trips, Collaborate boards, Quizzes, Polls, Matching Pairs activities + more.
11.1.3. Con- Free version has limited capabilities.
12. Padlet
12.1. Padlet is the easiest way to create and collaborate in the world
12.1.1. An online bulletin board for students to collaborate and share information.
12.1.2. Pro- Fun for students! Simple set up for teachers. Google classroom and forms works well with this app.
12.1.3. Con- If teacher does not set up board as fixed the students could lose their post.
13. Pear Deck
13.1. Pear Deck Auth
13.1.1. Pear Deck is a web-based formative assessment tool that allows you to create interactive lessons using G Suite tools. Pear Deck offers a library of free templates that you can use to created interactive assessments in your slides.
13.1.2. Pro- Allows teachers to take premade google slides and make them more interactive.
13.1.3. Con- I found this assessment tool to be a little complex. I also felt that it was a time consuming tool to use.
14. Plickers
14.1. Plickers
14.1.1. This assessment tool allows teachers to collect on-the-spot formative assessment data without the need to have students use devices or paper and pencil. Teachers create and print specially coded cards that students hold up in class as their response. The teacher uses the Plickers app to scan the cards and collect the data.
14.1.2. Pro-Free! Does not need student devices.
14.1.3. Con- Prep work to use tool is time consuming.
15. Poll Everywhere
15.1. Live interactive audience participation
15.1.1. Poll Everywhere is a live audience polling tool that integrates into your presentation. You can ask questions during your lessons, see live data, and reports.
15.1.2. Pro- Real time feed back. Live data and reports.
15.1.3. Con- Free version only allows 25 poll answers.
16. Backchannel Chat
16.1. Backchannel Chat - Safe Secure Classroom Discussions
16.1.1. This site offers a teacher-moderated version of Twitter. An extension of the in-the-moment conversation might be to capture the chat, create a tag cloud, and see what surfaces as a focus of the conversation.
16.1.2. Pro- Teacher controlled and profanity filtered.
16.1.3. Con- Cost is $15.
17. Lino
17.1. Sticky and Photo Sharing for you - lino
17.1.1. A virtual corkboard of sticky notes so students can provide questions or comments on their learning. These can be used like exit tickets or during the course of a lesson.
17.1.2. Pro- Can be used for educational and scheduling purposes.
17.1.3. Con- Not a secure site.
18. Quizizz
18.1. Quizizz: Free quizzes for every student
18.1.1. Quizizz allows you to conduct student-paced formative assessments in a fun and engaging way for students of all ages. Quizizz works on just about any device and offers a library of public quizzes that teachers can use in their classrooms. They also provide detailed class and student reports.
18.1.2. Pro- Student paced assessment. Fun for students. Program does the grading for the teacher.
18.1.3. Con-Game based, so if student is not a fan of gaming then the student might not be as engaged.
19. Seesaw
19.1. Seesaw
19.1.1. Seesaw is a digital portfolio and communication tool that many teachers love! Seesaw works on any device shared or 1:1. Free for teachers. Teachers create activities for students. Students draw, take pictures and video, and capture their learning in their portfolio.
19.1.2. Pro-Allows parents to view student work.
19.1.3. Con- District may require the use of other platforms for portfolio work.
20. Socrative
20.1. Home - Socrative
20.1.1. Socrative is a web-based formative assessment tool that allows teachers to create quizzes, ask questions, collect exit tickets and feedback. You can also create a competitive quiz bowl game, called, "Space Race," where students compete to get the most answers correct.
20.1.2. Pro-The beginning assessment is in the form of a game.
20.1.3. Con-Free version only allows 50 students per session.