Academic Knowledge
by Victoria Hoben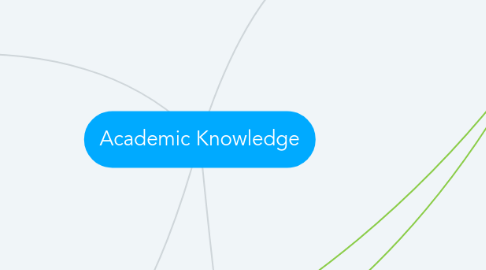 1. Ideas (Experience)
1.1. Work Experience
1.1.1. Education
1.1.1.1. Brock University (RECL)
1.1.1.1.1. Skills Required
1.1.1.1.2. Knowledge Required
1.1.1.1.3. Questions and Ideas
1.1.2. LTC Recreation Summer Student
1.1.2.1. Skills Required
1.1.2.1.1. Professionalism
1.1.2.1.2. Confidentiality
1.1.2.1.3. Communication
1.1.2.1.4. Time Management
1.1.2.1.5. Collaboration
1.1.2.1.6. Compassion
1.1.2.1.7. Patience
1.1.2.2. Knowledge Required
1.1.2.2.1. Best Practice for Population
1.1.2.2.2. Knowledge on Disabilities/ Diagnosis
1.1.2.2.3. Therapeutic Recreation Process
1.1.2.3. Questions and Ideas
1.1.2.3.1. At this work placement I developed a passion for working with older adults and individuals with dementia.
1.1.2.3.2. What can I do to be a better practitioner / serve this population better?
1.1.2.3.3. Need to expand knowledge on documentation in LTC.
2. Extensions (Implications of learning)
2.1. Perspectives
2.1.1. Everything that is being taught/ learned in class can be applied at work and vice versa.
2.1.2. Education as well as practical experience is essential for growth
2.1.3. It is important to be a well rounded student in order to set yourself up for success as a well rounded employee.
2.2. What am I going to do as a result
2.2.1. Innovation
2.2.2. Throughout this experience I have learned that I want to continue my education.
2.2.3. Evidence Based Practice
2.2.4. Achieving CTRS certification
3. Professional Development Goals
3.1. Develop more knowledge & experience on the desired population (older adults with dementia)
3.1.1. Best Practice
3.1.2. Facilitation techniques
3.2. Acquire more experience regarding documentation in professional practice.
3.2.1. Activity Pro
3.2.2. Point Click care
3.3. Narrow down areas of intrest regarding future research
3.3.1. older adults with dementia
3.4. Apply for graduate school
3.4.1. applied gerontology
3.5. Establish Professional Connections
3.5.1. With teachers
3.5.2. placement advisors
3.5.3. peers
3.6. Address all unanswered questions
4. Personal Soft Skills
4.1. Positivity and Enthusiasm
4.1.1. Eager to learn
4.1.2. Positive outlook
4.1.3. Friendly
4.1.4. Outgoing personality
4.2. Creativity
4.2.1. Enjoys the arts
4.2.2. Assistant dance teacher (4 years)
4.3. Communication Skills
4.3.1. Communicating with classmates & Profs
4.3.2. Working with Interdisciplinary Team
4.4. Patience
4.4.1. Working with individuals with dementia
4.5. Empathy
4.5.1. Working with vulnerable persons