Visual Thinking RESOURCES
by
Toni Krasnic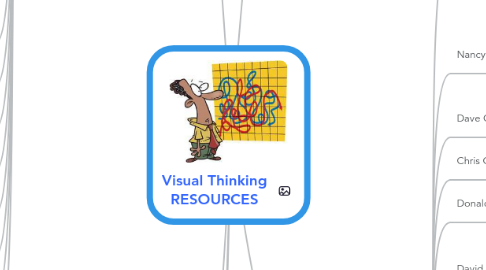 5.0
stars -
9
reviews range from
0
to
5
Visual Thinking RESOURCES
Blogs
Programs & Apps
Column, Bar, Line, Area, Step, Smoothed line, Candlestick, OHLC, Pie/Donut, Radar/Polar, XY/Scatter/Bubble charts as well as advanced Stock charts.
Canvas to collect, share, and collaborate.
World maps
Graphic design program.
Free Visio-like program.
Timelines
Draw with other in real time.
Image editing.
Diagram editor
Google
Google Chart Editor
Google Chart Tools
Chart builder.
Brainstorming and free form application.
Create and share charts.
Graphic design program by Adobe.
Create infographics and interactive charts.
Capture your ideas as easily as with pen and paper, then arrange and reorganize them with your fingers.
Open source vector graphics editor
Collaborate on maps. Free for students and teachers.
Collect, share, and collaborate.
For Mac and iPad.
Create infographics. Templates & editor.
Collection of fun visual tools.
Visual collaboration in real time.
Super easy to use with lots of cool features.
Provides drawing space. Zooming, sketching and more.
Free data visualization tool.
Editor and templates.
Large community of infographics and visualizations.
Generate word clouds.
Graphics software.
Legend
Desktop
Web-based
Mobile
Books
Inventor of mind maps.
Mind Map Book
Mind Maps for Kids
How to Mind Map
More books
Resonate
Slide:ology
Gamestorming
GRASP the Solution
Visual Intelligence
Visual Tools for Transforming Information Into Knowledge
Student Success with Thinking Maps
Visual Thinking
Mapping Inner Space
I See What You Mean
Information Toolkit
Idea Mapping
Inventor of concept maps.
Learning How to Learn
Making Thinking Visible
Back of the Napkin
Blah, Blah, Blah
The Sketchnote Handbook
Visual Leaders
Visual Meetings
Visual Teams
Leading expert on visual display of quantitative information.
Envisioning Information
Beautiful Evidence
More books
Visualizing Social Science Research
Once there, click on the mind mapping & visual thinking link on the right side.
Resources
International forum of visual practitioners.
Amazon products visualizations.
Articles
Additional links