MIDDLE CHILDHOOD (6-10 years) The main developmental goals: • the continued development of age-specific language and numeracy skills • interpersonal skills • impulse and emotions control and self control • the development of goal-directed behaviour • decision making and problem solving skills • coping with stress
by Bartosz K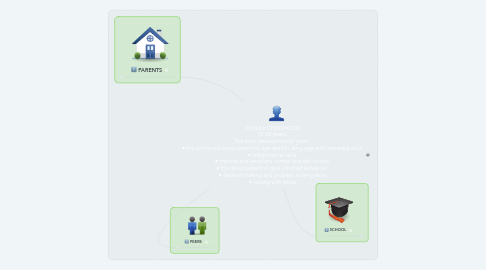 1. PEERS
1.1. The role of peer groups (but the most in day-care, schools) starts to grow. Community norms become increasingly important for safe and healthy emotional, cognitive and social development.
1.2. The role of social skills and pro-social attitudes grows in middle childhood and they become key protective factors, impacting also the extent to which the school-aged child will cope and bond with school and peers.
2. SCHOOL
2.1. A POSITIVE SCHOOL CLIMATE is an important factor supporting children and youth, and also a protective factor protecting against risky behaviors.
2.1.1. What is?
2.1.1.1. dialogue and cooperation
2.1.1.2. good teacher-student relations
2.1.1.3. sense of bond
2.1.1.4. sense of support
2.1.1.5. sense of security
2.1.1.6. clear rules
2.1.1.7. friendly atmosphere
2.1.1.8. positive partnering between school and family
2.1.1.9. effective classroom management
2.1.1.10. high academic standards, strong leadership, concrete strategies to promote achievement, assessment of goal achievement, and positive involvement of families
2.1.2. Fosters
2.1.2.1. adaptation of students to school requirements and responsibilities
2.1.2.2. better academic performance
2.1.2.3. higher motivation to learn
2.1.2.4. greater involvement of students in class work
2.1.2.5. higher attendance rates
2.1.2.6. smaller indicators of "falling out" of students from the school system
2.2. Developing teachers skills
2.2.1. competence in effective class management
2.2.2. developing students' psychosocial skills
2.2.3. how to provide feedback to the student and parents
2.2.4. how to deal with students who disturbes in class
2.2.5. how to work with students with lower grades, special needs or rejected by peers
3. PARENTS
3.1. POSITIVE RELATIONSHIPS AND GOOD PARENTAL SKILLS ARE STRONG PROTECTIVE FACTORS AGAINST CHILDREN'S RISKY BEHAVIORS.
3.2. Developing parental skills
3.2.1. children emotional support
3.2.2. maintaining good relations with children
3.2.3. effective monitoring
3.2.4. solving problems related to school education
3.2.5. discipline children without violence
3.2.6. communicating expectations about principles and values ​​as well as problem behaviors
3.3. Areas of child development requiring support
3.3.1. SOCIAL
3.3.1.1. scharing
3.3.1.2. appling imagination to play
3.3.1.3. dressing and undressing independent from parents
3.3.1.4. sense of right and wrong
3.3.1.5. sense of future
3.3.2. LANGUAGE
3.3.2.1. stories, plays, understanding double meaning of the words
3.3.2.2. reading and writing
3.3.2.3. holding conversations, can debate
3.3.2.4. combines facts
3.3.3. PHYSICAL
3.3.3.1. constructing toys
3.3.3.2. coloring, gaming, dancing
3.3.3.3. variation in physical appearance more notable
3.3.3.4. early puberty in girls
3.3.4. INTELLECTUAL
3.3.4.1. copying letters, counting on fingers
3.3.4.2. adding details to pictures
3.3.4.3. awareness of time
3.3.4.4. talking about thoughts and feelings
3.3.4.5. more logically thinking
3.3.4.6. developing math and literacy skills
3.3.5. EMOTIONAL
3.3.5.1. carries out about friends and babies
3.3.5.2. better behavior control
3.3.5.3. learning by observation and talking
3.3.5.4. ability to emphasize
3.3.5.5. give support in stressful times
3.3.6. BEHAVIORAL
3.3.6.1. expressesing anger and frustration less with action and more with words
3.3.6.2. more independence
3.3.6.3. joining clubs and associate more with peers
3.3.6.4. want acceptance of peers