PS 9: Digital & Media Literacy School Map
by
The Media Spot, LLC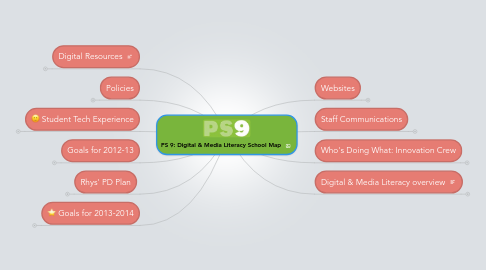 0.0
stars -
0
reviews range from
0
to
5
PS 9: Digital & Media Literacy School Map
Do this in PD next year. 
Definition of MLE
Relevance to CCSS
Digital Citizenship Contract Signed by Kids & Parents
Privacy Policy
Google Drive/Dropbox
report cards
data
All Staff should use email on @ps9.org
Websites
staff website (TBD)
public website on Joomla managed by parent
grade level websites in Google Sites (or other)
Media Lab Bridge Websites: Connects student work from Lab to Classrooms
PS 9 Google Apps for Education
Software Favorites & Suggestions
Hardware (Computers, Laptops, iPads)
Who's Doing What: Innovation Crew
Garin
CUNY Intern?
Kate
Rhys
Parent Webmaster
Tech Support & Management Strategies
their has to be a discussion element to this. we need input from teachers as to what is reasonable.
Student Tech Experience
Classroom Computer Use
PD needed for Classes at the end of this year.
Google Apps Accounts from Grade 2
Need to create CSV files for each grade, and create groups in "Contracts".
2012-13 5th Grade Pilot: Student Portfolios using Apps Accounts
How-to Documents Shared with all staff and students in Google Docs (to be developed)
Goals for 2012-13
Teacher use: Technology Project as one Assessment Piece
Adapt an existing rubric from a unit and work in assessment of media use within a Performance Based Task--For Example: Extending the use of language to the use of images and motion, and presentation through the use of a PowerPoint. BEST EXAMPLE: 5th grade pioneers videos were viewed by the teacher.  So it was adapted from their research paper.  3rd grade powerpoints on Chinese culture.  They did an additional piece connected to the class work, research was done in lab, powerpoint was presented in class. CHALLENGES: 3rd grade computers limited the work the teachers can do in class which limits the teacher involvement in assessment. 4th and 5th grade are set up to continue work from the cloud or the network in class, and did so this year.
Grade/Cluster WebSites
Schedule Regular Grade Levels Meetings with Mr. K
Mr. K mapping key Technology skills and software for each grade
Rhys' PD Plan
2012-2013
2013-2014 (TBD)
Goals for 2013-2014
Continue Curriculum Mapping Alignment with Grades 2-5
Using grade level student publishing & research sites and google drive as links between teachers and lab
Routine Student-Teacher Google Drive (Grades 2-5)
Streamline Establish Routine for student publishing & archiving
Videos: Vimeo Pro