Natalie Jeremijenko
by
Victoria Azzopardi1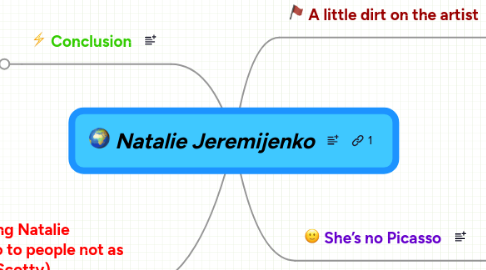 0.0
stars -
0
reviews range from
0
to
5
Her projects place evidence in the public sphere that would otherwise only be available to particular experts, as a strategy to change the structure of participation between lay expert participants. In other words, by widening access to material evidence, we may widen the political engagement.
Comparing Natalie Jeremijenko to people not as cool (sorry Scotty)
The Yes Men
no parking zones
Natalie Jeremijenko: "A maverick environmentalist whose field notes are public artworks" Her work is described as experimental design, as it explores opportunities presented by new technologies for non-violent social change. Her research centers on structures of participation in the production of knowledge and information, and the political and social possibilities (and limitations) of information and emerging technologies — mostly through public experiments. Jeremijenko began her studies with a B.S. in Neuroscience and Biochemistry at Griffith University, Queensland, Australia, and went on to receive a B.F.A. with Honors from the Royal Melbourne Institute of Technology. After pursuing graduate course work in Mechanical Engineering (Design Division) at Stanford, she returned to Australia to work towards a Ph.D. in the School of Computer Science and Electrical Engineering. Her work takes the form of large-scale public art works, tangible media installations, single channel tapes, and critical writing. It investigates the theme of the transformative potential of new technologies, particularly information technologies. An important part of Jeremijenko's artistic strategy is to enable public discourse through access to accurate information about scientific claims. Jeremijenko's work has been exhibited internationally at prestigious venues that include Dokumenta and the Whitney Biennial. Her work has been discussed in both mainstream media such as The New York Times and in the art press.
BioTech Hobbyist
xDesign Environmental Health Clinic
Some of her work
She's no Picasso
"What I'm most interested in is: how do we characterize systems of which we know very little, and have very poor information? Knowledge is very partial, very incomplete, and yet decisions are made. So, I specifically try to design information systems that measure urban environmental interactions." -the words of NJ herself.
1) The Federal Robotic Dog
2) OOZ
3) OneTrees
Conclusion
"Social change is effected less by marching the streets waving banners, shouting slogans, and more by the transformations of everyday life effected with and through information technologies." -NJ
So, what do i think?