Cheetah
by
linford daniel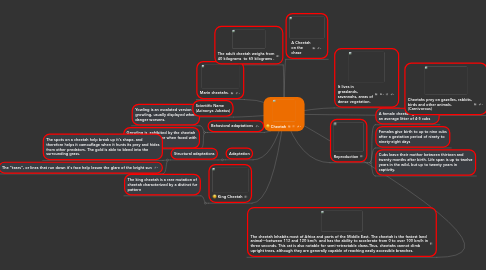 0.0
stars -
0
reviews range from
0
to
5
This is just a demo map that you can delete right away, if you feel like it...
Yowling is an escalated version of growling, usually displayed when danger worsens.
Growling is exhibited by the cheetah during annoyance, or when faced with danger.
Adaptation
Structural adaptations
The spots on a cheetah help break up it's shape, and therefore helps it camouflage when it hunts its prey and hides from other predators. The gold is able to blend into the surrounding grass.
The "tears", or lines that run down it's face help lessen the glare of the bright sun
Reproduction
A female cheetah gives birth to an average litter of 4-5 cubs
Females give birth to up to nine cubs after a gestation period of ninety to ninety-eight days
Cubs leave their mother between thirteen and twenty months after birth. Life span is up to twelve years in the wild, but up to twenty years in captivity.
Scientific Name (Acinonyx Jubatus)
. And the flexibility of their spines allows them long strides. Read more: http://wiki.answers.com/Q/Why_can_a_cheetah_run_so_fast#ixzz1rLhLwnXo
The adult cheetah weighs from 40 kilograms to 65 kilograms .
King Cheetah
The king cheetah is a rare mutation of cheetah characterized by a distinct fur pattern