"The view of the majority is always right" Do you agree?
by Jeidy Ng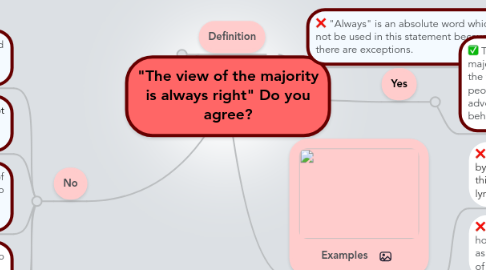 1. Yes
1.1. Then again, the view of the majority might be right most of the time. Because the majority of people do not commonly advocate morally indecent behaviour.
2. No
2.1. Human beings would support the situations which benefit them.
2.2. Things that are beneficial might not be right and in some cases, morally unjust.
2.3. Thinking and mindset of the majority may be due to a common stereotype for misperceptions
2.4. It is very subjective. What is right to a certain individual might not be right to the next.
2.5. Highly influenced by the media
3. Definition
3.1. "Always" is an absolute word which can not be used in this statement because there are exceptions.
4. Examples
4.1. Discrimination against the black americans by the white americans. White americans think that they are superior, tthis led to many lynching cases which are morally unjust.
4.2. People in China detest the One Child Policy, however, it is for the benefit of the whole nation as the policy is needed to curb the rapid growth of population.