APER Solutions, Inc.
by
Mohit Khurana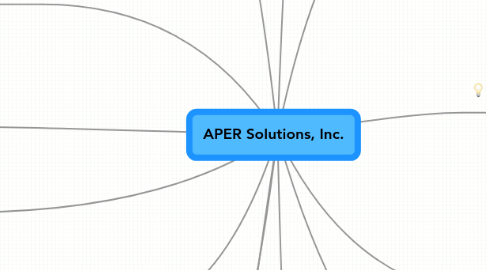 0.0
stars -
0
reviews range from
0
to
5
APER Solutions, Inc.
Revenue Cycle Management
Process/Tasks
Database Setup and Administration Posting Charges (if required) Auditing claims before transfer to Clearinghouse Claim Confirmation from Payers Posting payments Audit Insurance allowables Patient Statements Patient Phone Calls Claim appeals for all denials Refund process Reporting - weekly, monthly, quaterly, annually.
MGMA Standards
APER strives not just to meet but exceed the A/R standards set by the MGMA. All monthly reports sent to clients include a comparison of their numbers to MGMA"s standard.
Goals & Results
APER"s goal has been to provide our customers with the maximum reimbursement possible without needing the "% of collections" incentive.
Sage Partnership
Niche/Customer Profile
Financial Considerations
Operational Considerations
APER's Value Proposition
Scalability
Current Capability
Our current capability (resources and office space) is to support up to 30 providers. With an addition of just resources and office space, we can support up to 100 providers using our current infrastructure. To accomodate any additional increase, automation tools and knowledge-bases would need to be available.
Future Capabilty
With an addition of just resources and office space, we can support up to 100 providers using our current infrastructure. To accomodate any additional increase, technology infrastructure, automation tools and knowledge-bases would need to be available
Communication
Intra-Company
Customer
Insurance Companies
Insurance communication is delivered by email, phone and extensive use of the plan website for research for claims and billing policy and procedures.
Knowledge Transfer and Collaboration
Current Process
We have embraced and extended the Balanced Scorecard model for learning and growth in our company, whereby we calibrate the organization across 4 crucial perspectives, namely, finance, customer, process and learning.      The Balanced Scorecard implementation provides clear and measurable targets to the organization as a whole, the various departments within it, and to the roles within these departments. This provides the business context to everyone within the organisation. Competency assessment and knowledge mapping exercises help in defining the learning agendas for individuals in this business context.  At the end of this exercise, individuals know what they"re supposed to do and also know of gaps in their capabilities and knowledge levels that could possibly hinder their progress towards achieving what they"re supposed to.    Thereafter, individuals are motivated to perform through group workshops and individual counselling. Based on these inputs, people are categorized with respect to motivational levels (High, Medium and Low) and interventional workshops or individual counselling sessions are introduced depending on these categories. This exercise generates a highly focused and motivated work force that knows exactly what it has to do and how it is going to be measured in the business context.  The knowledge management process equips the organisation with the ability to aid this motivated, focused work force to learn, share, innovate and therefore bridge their knowledge gaps and the knowledge gaps of the organization as a whole. 
Future Tools
Our Document Management Application can also store business knowledge. Customizations will allow us to easily store, track, and search business process information, client specific data, and captured processes
Non-Technology Interventions
Tacit knowledge to explicit knowledge externalization   Creating repositories of knowledge   Inculcating Communities of Practice Gathering Competitive Intelligence  Ideation and brainstorming techniques
Redundancy
India Team
20% of the workforce is on the bench. For every 5 employees, one is redundant. This enables us to handle attrition, cross-training, learning and growth and to take on larger projects with quicker turn-around times
US Team
Currently, there is no redundancy in resources in US operations. However, due to effective cross training and "role-switchng" at regular intervals, this risk has been mitigated.
Future
India operations will continue to have at least 20% resource redundancy. For US operations, we will strive to create a 10% redundancy in the future. This will be coupled with cross-training and "Role-switching".
Workflow Management
Tool - Features
APER is in the process of implementing a document and workflow management tool that truly captures the processes associated with revenue cycle management and its global delivery
Future
Continued development of the document and workflow management tool and the addition of a task and customer relationship management component to it
Reporting & Benchmarking
Measuring Productivity
Productivity is measured by reports generated in Excel Spreadsheets that are stored in centralized servers (that everyone has access to). Currently, the result of all tasks are stored in Excel spreadsheets. This process, to measure productivity, is time consuming and inefficient.
Measuring Quality
Approval and quality checks are also captured in daily spreadsheets per customer. These are also stored in centralized servers that all resources have access to.
Future
A Task Management component will be added to the workflow tool to better track productivity and quality
Tools
A workflow and document management tool in being implemented to capture and report on productivity and quality. See Workflow Management > Tool for more details on this tool.
Compliance
HIPAA
APER is constantly updating its security and compliance procedures in an effort to be fully compliant to the HIPAA mandate
Security
There are 3 levels of security associated with an employees access to any customer: Authentication - all access requires logins and passwords Encryption and VPN"s - All customers are setup with a VPN to restrict access to their network Adherence to Policy & Procedure - Every employees access to PHI must adhere to APER"s policy and procedure on handling that data. Employees are constantly audited to ensure compliance.
Technology
Document & Workflow Management
A centralized storage application stores and makes data available. It provides document workflow, reporting, and search capability. It can easily target and find data to speed our processes.
Task Management & CRM
Our task management application will allow us to track, manage and report on tasks for individuals and groups. Further, at a client level, the clients own software system is used to track and manage tasks
Client Software Application
APER supports any number of client applications, VPN Network infrastructures, and connection mechanisms. Our virtualized environments allow us to easily and quickly provision new clients.
Portal Application
Our portal gives a user a centralized area to acces various tools such as the Document Management System, Task Management System, CRM Tool, and custom tools to support our customers and processes. Further, it creates a way for our customers to communicate with us.
Shared Server
Currently we store most documents and applications on a shared server. These functions are being moved to separate applications.
Remote Client Access
Our virtualized client environments are tailored to each of our clients. We can provision new clients in a matter of minutes.
Security
See section on Compliance
Services
Core Services
Consulting Services
Software Services
Pricing Model
Per Encounter Pricing
APER"s pricing is not based on a percentage of collections but on a per encounter or per claim basis. This is especially beneficial to certain specialties that have a large reimbursement per claim.
Volume/Specialty based Pricing
The per Encounter pricing is dependant on the Specialty of the practice and the Volume of transactions. Different specialties have different pricing due to their insurance denial rates. Larger volumes have lower pricing.
Company Profile
Mission Statement
APER will strive to provide cost-effective, reliable, and "all-encompassing" services to medical practices.  It is our goal to see that they run efficiently, smoothly and profitably.  Using our model, physicians will be able to focus on what they joined the field of medicine for – providing healthcare to their patients!
Vision & Objectives
APER's goal is to establish ourselves as a partner of choice for any small-to- medium-sized practices, nationwide! Our business exemplifies quality, reliability, efficiency and cost-effectiveness, coupled with excellent customer service. We focus on customer satisfaction and building long-term mutually beneficial relationships.
Global Delivery Model
India operations were started in June 2006
APER Model
Every external service offering and internal process within the company follows the APER Model