WISC-IV as a measure of the persons "intelligence"? Is the WISC-IV a reliable way to gauge this "intelligence". Is this "intelligence" guage an indicator of how successful at learning a student will be? Are the components of the test indicators of exceptionalities on a consistent basis?
by Fabaina Saudo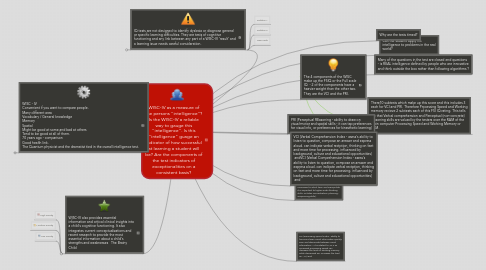 1. Many of the questions in the test are closed end questions - is REAL intelligence defined by people who are innovative and think outside the box rather than following algorithms ?
2. Can the student apply his intelligence to problems in the real world?
3. Why are the tests timed?
4. There10 subtests which make up this score and this includes 3 each for VCI and PRI. Therefore Processing Speed and Working memory recieve 2 subtests each of this FSI IQ rating. This tells me that Verbal comprehension and Perceptual (non-concrete) reasoning skills are valued by the testers over the RAM of the brain computer Processing Speed and Working Memory or RAM.
5. IQ tests are not designed to identify dyslexia or diagnose general or specific learning difficulties. They are tests of cognitive functioning and any link between any part of a WISC-IV 'result' and a learning issue needs careful consideration.
5.1. Problem 1
5.2. Problem 2
5.3. New node
6. The 4 components of the WISC make up the FSIQ or the Full scale IQ - 2 of the components have a heavier weight than the other two. They are the VCI and the PRI.
7. WISC-IV also provides essential information and critical clinical insights into a child's cognitive functioning. It also integrates current conceptualizations and recent research to provide the most essential information about a child's strengths and weaknesses * * The Brainy Child
7.1. High Priority
7.2. Medium Priority
7.3. Low Priority
8. WISC - IV Convenient if you want to compare people. Many different area Vocabulary / General knowledge Memory Spatial Might be good at some and bad at others Tend to be good at all of them. 70 years ago - comparison Good health link. The Quantum physicist and the dramatist tied in the overall intelligence test.
8.1. Action Point 1
8.2. Action Point 2
9. PRI (Perceptual REasoning - ability to draw on visual-motor and spatial skills - it can tap preferences for visual info, or preferences for kinesthetic learning)
10. WMI (Working Memory Index - ability to memorize for short term and manipulate. it is important to higher-order thinking skills, includes concentration, planning, sequencing skills).
11. VCI (Verbal Comprehension Index - asess's ability to listen to question, compose an answer and express aloud. can indicate verbal rectption, thinking on feet and more time for processing. influenced by background, culture and educational opportunities) andVCI (Verbal Comprehension Index - asess's ability to listen to question, compose an answer and express aloud. can indicate verbal rectption, thinking on feet and more time for processing. influenced by background, culture and educational opportunities) and
12. PSI (Processing Speed Index - ability to focus and scan visual information quickly, scan and discrimate between visual information. * It is related to WMI as increased processing speed can decrease the load on working memory while decreased PSI increases the load on VMI) and