Overpopulation- China
by HanFan Ho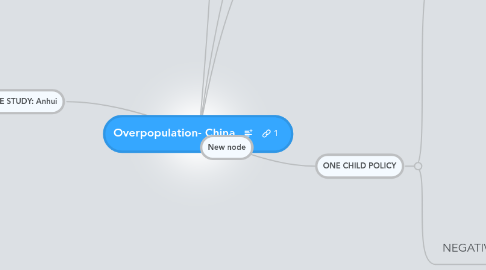 1. New node
2. Mao Zedong caused the huge baby booms during his rule as "more people means more power"
2.1. 1970- Birth rate 3.3%
2.2. From 540 mil to 852 mil when Mao died
3. Strained resources
3.1. THEREFORE THE NEED FOR A ONE CHILD POLICY TO CURB THE MASSIVE POPULATION GROWTH
4. OVERPOPULATION
4.1. so many people relative to the resources and level of technology in an area/country that a reasonable standard of living is difficult to obtain
5. ONE CHILD POLICY
5.1. POSITIVE
5.1.1. indeed managed to curb the population growth, can be said to be extremely effective
5.1.2. higher standard of living for the people
5.1.2.1. less strain on resources
5.1.2.2. only need to provide for one child
5.1.2.3. less people = more job opportunities
5.1.2.4. govt incentives if they adhere to law - can accumulate more wealth with all the subsidies and pension etc.
5.2. NEGATIVE
5.2.1. gender imbalance
5.2.1.1. 119 baby boys for every 100 baby girls
5.2.1.2. by 2020, 40 million men of marrying age will have NO spouse, not because they can't be bothered, but because there's no more women left to marry
5.2.1.2.1. men feel emotionally stressed (yes, this is bullshit but it works)
5.2.1.2.2. human trafficking- men hire ppl to kidnap women to bring to him as a wife
5.2.1.2.3. no wife= frequent brothels (according to research) yep it's bullshit again but seriously, there are reports on this
5.2.2. "little emperor syndrome"
5.2.2.1. all hopes pinned on only child - doted on by parents and grandparents
5.2.2.1.1. stats show that urban chinese boys aged 6 are 6.6 pounds heavier than boys 30 years ago on average
5.2.2.1.2. 8.1% of urban boys are obese
5.2.2.2. next generation of overweight chinese
5.2.2.3. parents pay to enroll child in "military-style bootcamps" for their child to lose weight, doesn't that defeat the purpose of financial incentives???
5.2.3. greying population
5.2.3.1. those from baby booms era reaching 65 and above
5.2.3.2. working population from one child policy
5.2.4. need for immigrants
5.2.4.1. stagnant in growth or even shrinking, thus the need for more immigrants to boost the population
6. MINI CASE STUDY: Anhui
6.1. PUNISHMENT-BASED
6.1.1. Fine up to 3 times their annual income if they do not follow one child policy
6.1.2. confiscate property eg. livestock
6.2. REWARD-BASED
6.2.1. couples receive 600 yuan annually (what did you expect....) from 60 years of age until death if they stop at 1 child./ 2 daughters
6.2.2. pension for couples who are "unlucky" enough to get 2 daughters
6.3. 170 males to 100 females