Does sport merit the vast sums of money that are spent on it?
by
Lee Saeyun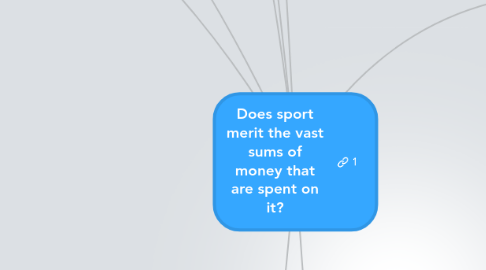 0.0
stars - reviews range from
0
to
5
Burdens govt. - Building of sports facilities in return of generating economic returns does not necessarily work + usually exeeds govts budget. demand > resources + higher taxes > Burden taxpayers
Athens 2004 ( US$15 Billion) Net loss As of 2008, venues such as the Velodrome and Softball Stadium remain unused.
In 2010 World Cup in South Africa, construction costs amounted to 3 million, and government expected increased tourism to cover up for $507 million.
YOG. Exeeded budget
Turned out that only $323 million were generated as the number of tourists that actually turned up were below the expected number.
transfer fees: may result in bad deals, hence money is wasted
if players do not value the money spent on them (materialistic-just going for the money) and not the value of the sport
wastage of facilities
organising major sporting events (eg. olympics)
building of the sports facilities and infrastures(eg. stadiums, swimming pools, gymnasiums)
if all these are built throughout the country and a majority of the people have access to these facilities, then there will be health benefits since these places can be used for recreation and for fitness training.
what is important is not winning, but taking part. how realistic is this attitude in the world of sport today
facilities for hosting major sporting events, eg. Bird's Nest stadium in Beijing
definition
sport
merit
vast sum of money
No.Sports does not deserve the vast sum of money
Economics
Political : Corruption
Social
Yes. Sport does merit the vast sums of money that are spent on it.
Political:
Social
Entertainment
Economics
Enivronment