Useful Web-based Tools & Apps 2014
by
flea palmer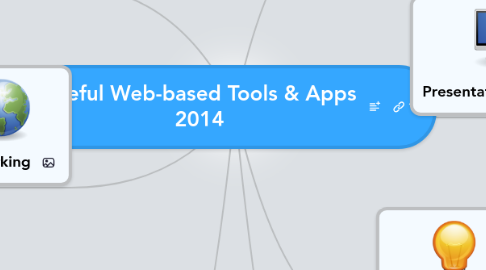 5.0
stars -
20
reviews range from
0
to
5
A few useful tools, most of them free (or with free versions)
Easy-to-create & share a website via PebblePad
Zooming presentation editor to which you can add your own pictures, videos & PDFs
Present your PDF as a flip-page book
Create your own cartoon strips - choose your character, props & type in your text. Can be embedded into any blog or webpage
Share your PowerPoint presentations
Wordle is a toy for generating "word clouds" from text that you provide. The clouds give greater prominence to words that appear more frequently in the source text.
Research Tools...
Social Bookmarking
Save, organise & share your bookmarks. Social bookmarking is web-based, meaning you can get to your bookmarks from any internet-connected computer
Curation Tools
Curation tools allow you to not only collect interesting stuff but can also help to develop critical thinking skills as you're prompted to explain why you've bookmarked items.
Mindmapping
Creating a diagram linking ideas around a central theme (this is a mindmap!)
Evernote helps millions worldwide remember anything and everything that happens in their lives. Use Evernote to take notes, save interesting web pages, create to-dos and shopping lists, attach images and PDFs, and so much more. Then, watch as it all instantly synchronizes from your Mac to your smartphone, tablet and the Web, allowing you to find your memories at any time from anywhere.
WorkFlowy is an organizational tool that makes life easier. It can help you organize personal to-dos, collaborate on large team projects, take notes, write research papers, keep a journal, plan a wedding, and much more.
Trello is an easy-to-use project management tool which allows you to create boards in order to record tasks. You can also link to files on your computer, Google Drive and Dropbox. It can be used by teams as tasks can be allocated to individuals with due dates.
Enables you to plan trips and holidays, setting an itinery for each day. You can add places of interest, each with their own description and links to further info to a personal map. Could also be used for planning field trips.
Facebook helps you connect and share with the people in your life.
A social networking site, a bit like Facebook. You can organise contacts into circles, so sharing stuff is easy. You can also have a video chat (hangout) with up to 10 people. These can also be recorded. You can also create or join a subject-focussed community, great for expanding your knowledge and networks.
Network with professionals - good for making contacts, finding work, getting recommendations & keeping up to date with news from your industry
A personal (or group) online journal, sharing text, images, videos & presentations, displayed as 'posts'. These could be commented on by visitors.
Enables you to share files between computers without having to email them to yourself or save them to a memory stick
Access files on your computer from anywhere. It's free and installs in seconds. All your files – everywhere Put files in Google Drive and you can access them on your desktop, mobile phone or tablet, and drive.google.com. Always up to date Make changes to a file in one place and it automatically updates everywhere. 5 GB of free space You get 5 GB from the start, and you can upgrade to get more space at any time.
Store photos and docs online. Access them from any PC, Mac or phone. Create and work together on Word, Excel or PowerPoint documents.
"Mobile with Plymouth University" is a must have resource for students or prospective students of Plymouth University. Crammed with helpful University information that is easily accessible wherever you are, this is your guide to campus life!
TULP is Plymouth University's Virtual Learning Environment. Students can access their learning materials and also use collaborative features such as blogs and wikis.
The University's Personal Development Planning tool - good for reflection when working towards long-term objectives
Share photos & videos, & get feedback
Video