The Dark Side of Textbooks
by Juan Vivancos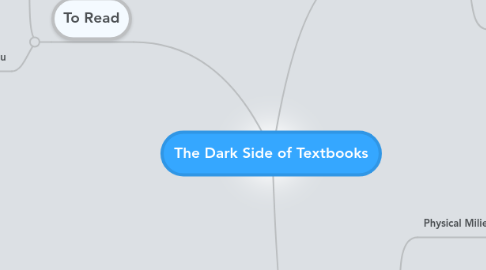 1. To Read
1.1. Physical Milieu
1.1.1. At the beginning, we read the documents which were provided to us
1.1.1.1. Textbook explanation from Wikipedia
1.1.1.2. Textbook conception from blogs
1.2. Virtual Milieu
1.2.1. Internet Web 2.0
1.2.1.1. We searched for some information about Textbooks and their "social context"
1.2.1.1.1. Newspaper Web 2.0
1.2.1.1.2. Adobe Reader Online
1.2.1.1.3. Blogger
1.2.1.2. We watched some adverts in ordert to get inpiration to make our own publicity campaign
1.2.1.2.1. Youtube
2. To Reflect
2.1. Physical Milieu
2.1.1. After reading and searching for some information we decided to divide the task and recording two videos each member of the group
2.1.1.1. We used pencil and paper to design our own adverts
2.1.2. We put in common our ideas to make the commercials
2.1.2.1. We made handmade mindmaps to illustrate what we were thinking about
2.2. Virtual Milieu
2.2.1. We start using writing tools to reflect and create the adverts' script
2.2.1.1. OpenOffice
2.2.1.2. Microsoft Office
2.2.2. We showed some of our thoughts on the Internet
2.2.2.1. Blogger
2.2.2.1.1. El Pensamiento Ajeno's Blog
2.2.2.2. Social Networks
2.2.2.2.1. We use social networks to work but also to know how other groups were going to face the activity
2.2.3. We decided to include some information and subtitles in the videos, such as slogan or advice...
2.2.3.1. These morals would gather our reflections about every commercial
2.2.3.1.1. We would use Adobe Photoshop to create the images from the adverts as well as pictures which would include slogan and morals
2.2.3.1.2. We used Movie Maker to edit the video and also adding our own reflections (images and pictures from Photoshop) to the videos which we had recorded
2.2.4. Juan decided to go beyond and after reflecting more about the commercials he would start to compose the own soundtrack of the publicity campaign
2.2.4.1. For this task he would use
2.2.4.1.1. Finale
2.2.4.1.2. Mixcraft
3. To Share
3.1. Physical Milieu
3.1.1. The Dark Side of Textbooks was not shared in a "physical way" at all, only by talking with people and to let them know that we had uploaded the videos just in case they wanted to watch them
3.2. Virtual Milieu
3.2.1. Adverts videos were uploaded to YouTube
3.2.1.1. YouTube Channel
3.2.2. We wrote a post on blogger to share our final result with our colleges and the teacher
3.2.2.1. Blogger
3.2.2.1.1. El Pensamiento Ajeno's Blog: The Dark Side of Textbooks
3.2.3. We also shared our work on the social networks since the main characters of the publicity campaign were our own friends so they had to watch how the final project was
3.2.3.1. Social Networks
3.2.3.1.1. Tuenti
3.2.3.1.2. Twitter
3.2.3.1.3. Facebook