Feed In Tariffs David Lipschitz At RETECH 2009
by
David Lipschitz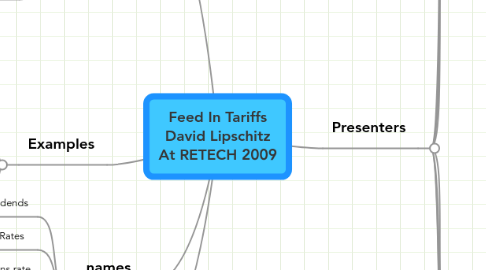 0.0
stars -
0
reviews range from
0
to
5
Feed In Tariffs David Lipschitz At RETECH 2009
Presenters
Mike Eckhart
Architecture of original FITs
you must buy at this price
whatever the utility avoided it had to pay you, eg if you provided an alternative, then the utility had to pay you the price that they avoided
RPS, in UK and USA, leaves the price to the market, unlike Germany which sets the price for the long term, Renewable Portfolio Standards (RPS)
if you regulate the price you give the private sector the opportunity to do what needs to be done
government regulates the interest rate (price) and therefore this isn't any different
Murray Cameron
COO: Phoenix Solar, based in Germany, 2 people in 1999 to >230 today
VP: EU PV Industry Assoc (EPIA)
History of FITs in Europe and Germany
The impact of FITs on a particular company in Europe, Simple concepts, doesn't cost the country anything, because no investment required, therefore can pay a surcharge
Impact, What has it done?, Focussing on Solar, price of solar has come down dramatically, at the same time FIT's have gone up
Wilson Rickerson
energy policy design and development at the municipal level
how have FIT's effected economic development
R. James Woolsey
START, Strategic Arms Reduction Talks with the Soviets and USA
Now a Venture Partner with Vantage Point
Why Energy Security is essential for a country's security
The electricity grid has no built in resistance to outside attack because it is centralised, physical vulnerabilities, violence, eg the spare transformer is right next to the main transformer, a bullet from a rifle is enough to shut one down, psyber attacks on the scada systems
threats, malignant, malevolent
electromagnetic pulse from nuclear warheads, Clive Cussler: Dragon, Dirk Pitt
[all this energy insecurity leads one to the conclusion that the fastest way to resolve these threats is with decentralised energy]
John Burges
Financing Renewables
Knight, $1.8 Billion of Cash, Focus on small cap and micro cap stocks, Most of the clean tech companies fall into SMME category, 38% market share
What attracts capital, regulatory stability, boom and bust rqd in USA, supportive long term framework, assured interconnection, simplicity, federal vs state vs IOU vs Muni in USA, numerous variations in USA, US fails at all of these, ROI of 5 to 10% can attract capital, eg pension fund capital, 7% returns in Germany, Feed in Tariffs, No price risk, no volume risk, limited or no regulatory risk once project is built, counterparty risk is ...
NREL study, RE creates the highest jobs, highest economic benefits, it works, it has the most rapid growth, FITS provide investment security, ROI in Germany is lower is acceptable because it is known for the long term and is not changed
Allows one to create a "bankable contract" because of the 20 year fixed rate timeline
x
The Green Energy Act Alliance
in Ontario, Canada
RESOP, Renewable Energy Standard Offer Program, 42c/kwh for solar PV, wind, hydro different pricing, Now the Green Energy and Green Economy Act, 2009 (GEA), Ontario total power 30,000MW by 2025
Obligation to Connect
Smart Grid Investments = Demand Management
Streamlines Approvals Process
Energy Conservation
contact, www.greenenergyact.ca (campaign site), www.ontariogreenenergyact.ca (Government Site)
Cheri Olf
assembled 15 institutions of higher educations into ACORE
how can RE be brought to campus in a cost effective manner?
colleges and universities use 5% of all electricity use in the USA
ACORE Higher Education Committee
John Geesman also spoke
"rivers of money" from standard utility energy
"rivers of money" needs to be channeled to the right place
solve the problem by "carbon option revenue"
Louis
the Alliance for Renewable Energy
lead the panel
names
RED's: RE Dividends
RER: RE Rates
In Germany Tariff means rate
An RPS and a FIT go together
the RPS is used to set the FIT
Energy Security
[what is the cost of being out of action for 4 days per year, or for 4 hours unexpectedly at any time?]
Examples
Ontario
$.42 per kwh
USA
From the bottom up
Florida, $.32/kwh, replaces both rebate and net metering, 4MW per year
Germany
100% goes into the grid
$1.34 per kwh in Aachen in 1993, Gainsville in Florida only doing this in 2009
principles
utility must connect anyone to the gird
they must buy all the energy that is produced
15 to 20 year contracts
must buy at a fixed price for the length of the contract
prices vary (differentiated) according to
type of technology
size of system
by application, fuel, resource
how do you ensure that the FIT reaches the right level?
German govt takes out a revision of the FIT law every 3 or 4 years. The FITs are simple and easy to tweak