WHO collaborating centres Support
by
Matias Tuler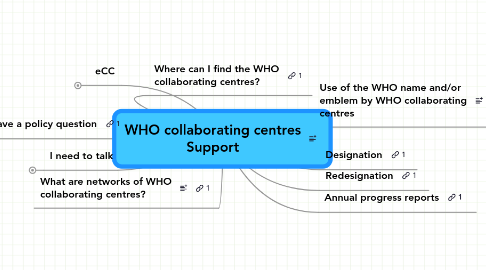 0.0
stars -
0
reviews range from
0
to
5
How to use this support map? 1) Follow the appropriate path by clicking on the + (plus sign) 2) Click on the text icons and hyperlinks
First check WHO Manual XV.2.640 If one of your WHO collaborating centres wishes to use the WHO name and/or emble, the responsible officer should send an email to the Global Focal Point for WHO collabortaing centres identifying the centre and explaining in detail the request. Also attach a draft of the product where the WHO's name and/or emblem is intended to be used (brochure, Web page, etc.)  
First of all, note WHO Manual XV.2.640 If one of your WHO collaborating centres wishes to use the WHO name and/or emblem, the responsible officer should send an email to the Global Focal Point for WHO collabortaing centres identifying the centre and explaining in detail the request. Also attach a draft of the product where the WHO's name and/or emblem is intended to be used (brochure, Web page, etc.)  
eCC
How to use eCC?
Introduction to eCC basics
eCC tips
eCC FAQs
Flyer
See the PowerPoint presentation
Attend one of the regular training courses organized by KMS (in HQ) and by the regional focal points in the ROs.
I cannot access eCC
I have a technical problem with eCC
If you can access the system but a technical problem occurs (e.g. error message, frozen screen, etc), please do not contact the Focal Point for WHO collaborating centres. Instead, kindly submit a Help Desk Enquiry. To do this, open e-work, go to "forms" and select "e-Work Help Desk: submit an enquiry".
One of my WHO collaborating centres has a technical problem with eCC
First, they should consult the FAQs of the Internet
If after referring your centre to the FAQs of the Internet the problem persists, kindly submit a eCC Help Desk (in eCC, under "Forms") on their behalf.
I need to talk