MANAGEMENT OF CRISIS SITUATION
by dulce calera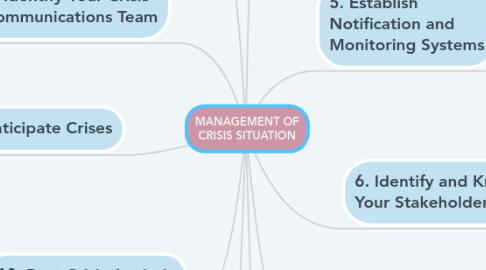 1. 2. Identify Your Crisis Communications Team
1.1. A small team of senior executives should be identified to serve as your organization's Crisis Communications Team
2. 1 Anticipate Crises
2.1. You may realize that some of the situations are preventable
3. 3. Identify and Train Spokespersons
3.1. Each crisis communications team should have people who have been pre-screened, and trained, to be the lead and/or backup spokespersons for different channels of communications.
4. 4. Spokesperson Training
4.1. Spokesperson training teaches you to be prepared, to be ready to respond in a way that optimizes the response of all skateholders
5. 5. Establish Notification and Monitoring Systems
5.1. It is absolutely essential, to establish notification systems that will allow you to rapidly reach your stakeholders using multiple modalities.
6. 6. Identify and Know Your Stakeholders
6.1. ensure that they receive the messages you would like them to repeat elsewhere.
7. 7. Develop Holding Statements
7.1. designed for use immediately after a crisis breaks, can be developed in advance to be used for a wide variety of scenarios
8. 8. Assess the Crisis Situation
8.1. Ensure that the right type of information is being provided so you can proceed with determining the appropriate response.
9. 9. Finalize and Adapt Key Messages
9.1. the Crisis Communications Team must continue developing the crisis-specific messages required for any given situation
10. 10. Post-Crisis Analysis
10.1. A formal analysis of what was done right, what was done wrong, what could be done better next time and how to improve various elements