Which Way Now?...
by D B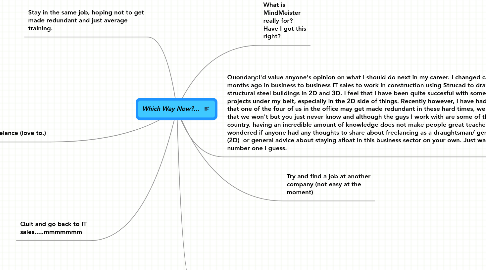 1. Stay in the same job, hoping not to get made redundant and just average training.
2. Go freelance (love to.)
3. Quit and go back to IT sales.....mmmmmmm
4. Quondary:I'd value anyone's opinion on what I should do next in my career. I changed careers 18 months ago in business to business IT sales to work in construction using Strucad to draw/ detail structural steel buildings in 2D and 3D. I feel that I have been quite succesful with some quite big projects under my belt, especially in the 2D side of things. Recently however, I have had the feeling that one of the four of us in the office may get made redundant in these hard times, we have been told that we won't but you just never know and although the guys I work with are some of the best in the country, having an incredible amount of knowledge does not make people great teachers. I just wondered if anyone had any thoughts to share about freelancing as a draughtsman/ general arranger (2D) or general advice about staying afloat in this business sector on your own. Just want to look after number one I guess.
5. Try and find a job at another company (not easy at the moment)
6. Aarrrgghh!!!
7. What is MindMeister really for? Have I got this right?