Thoro Bred Feed Sale Acquisition
by Terry Finley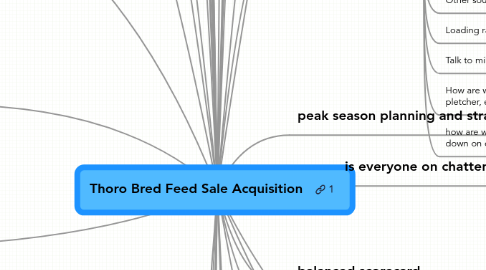 1. Lindsey's friend
1.1. Totally integrated program for billing, inventory, etc.
1.2. Field Technology (Ipads, etc.)
1.3. Credit card phones in the field
2. Management/Company Structure
2.1. COO Role?
2.2. New business Development
2.2.1. Increase sales
2.2.2. fire un-wanted clients
2.3. Field operations
2.4. Finance and accounting
2.5. administrative
2.6. What to do during off season
2.6.1. Snow plowing
2.6.2. Trucking service
2.6.3. Unemployment Insurance
2.7. If we are afraid of chaninging we might not bring up the key thing that will make us more money
3. Outside Consulting
3.1. Brumfield
3.2. Purina
3.2.1. Tour other feed store sites on the east coast
3.3. Florida expansion
3.4. Lee Hall and the florida guy
3.4.1. look at Lville store going out of business
4. Items of interest
4.1. Look at every line of the P/L
4.2. Look at insurance
4.3. Look at Telephone charges
4.4. Credit Card Costs
4.5. Deal with Gas Stations for Fuel
4.6. Deal with Garage for repairs
4.7. Look at Meidcal Insurance and 401K
4.8. Headcount?/Overtime
4.9. All existing Relationships
4.10. Vendor Relationships/discounts
4.11. price list given to the workers
4.12. give workers a spec sheet to help educate customers
4.13. Map with coverage detail and customer location
4.14. Shouldn't we be talking to triple star
5. How Do We Drive Revenue?
5.1. Who don't we have as clients and why?
5.2. What is our new buseinss Methodolody
5.3. Who have we lost over the lst few years and why?
5.4. Our plan for a/r control
5.5. Get Kentucky Guys!!!
5.6. Who is charge of Sales
5.7. Parking Revenue during the meet
5.8. Sell Supplements and wormers/barn supplies
5.9. Share a salesperson with Purina
5.10. golf cart for side items during meet
5.11. 43% of our business is at the tb track. needs to decrease
5.12. how do hold people responsible for getting names and emails for everyone who comes into store.
5.13. ask all the ops team - how do we drive revenue and decrease costs and increase efficiciency?
6. Fasig Issues
6.1. Have them keep funds in company
6.2. ability to provide working capital
7. Personnel Matters
7.1. Time Clock
7.2. Org chart
7.3. Job Descriptions
7.4. Vacation/Sick Days
7.5. Review Health and 401k to Fasig Matters
7.6. Employee Manual
7.7. Plan for activity fluctations at different times of the year.
7.8. Salary Issues
7.8.1. Salary vs. hourly
7.9. Future of/Best use of Bill Pitney and Bill Muraskus
7.10. Employee development
7.11. Vendor sponsor conventions
7.12. Billy M. pay increase
7.13. Look at new case register
7.14. Get golf cart for order takers
7.15. can WPT get offices at Fasig?
7.16. Balanced Scorecard
7.17. look at co managers - billy and a business dev person
8. Accounts Receivable
8.1. Strategy for Contoling A/R
8.2. Mechanics of FT payment of A/R as of 6/30
8.3. Increase use of CCs
8.4. cutting off customers
8.5. implementing payment plans
8.6. utilizing collections
8.7. Fire Unwanted Clients
8.8. Recording allowance on monthly basis
8.9. Discuss w/Boyd 2013 season - Zito & Terranova
9. Why Are We Doing This?
9.1. Within racing industry
9.2. Partnership w/ compatible/well capitalized Company
9.3. Incredible upside through technology and improved protocals
9.4. Develop into a consistent revenue stream for WPT
10. Technology
10.1. Use of Epicor for Admin/Financial management
10.2. Create email addresses for team members
10.3. Create Facebook account
10.4. Update website
10.4.1. Use Isaac at FT
10.5. Build client email listing
10.6. iphones and ipad for each worker
10.7. Equipment for warehouse
10.7.1. Forklift (renting?)
10.7.2. "Gator" for taking orders
10.8. put video in back and on the side (put in billy's office and also the front room
11. General Questions
11.1. how do we record darley transaction? Tom and Kiaran?
11.2. Don't offer credit cards for big accounts that pay.\
11.3. use return envelopes
11.4. How are we handling people paying for stuff and then going in the store to load themselves???
11.5. Are the trailers secure?
11.5.1. New trailers
11.6. Who are we giving to collections?
11.6.1. Test
11.7. Look at one full time person in the office for office manager.
11.8. provide office staff with a very detailed instruction sheet for daily, weekly and monthly responsilities.
11.9. Who are good candidates to run the business
11.10. Did we meet with Tom Quinn at Adirondack
11.11. Should we just get people off rye straw
11.12. Should we sell Pete moss
11.13. New Topic
12. Weekly duties
12.1. Melissa and Bill have to have weekly meeting for a/r
13. PR and Promotion
13.1. Brand incentive plans
13.2. Purina assistance
13.3. Utilizing templates
13.4. Email acquisition
13.5. Local media coverage
13.6. Local sponsorships/charity events
13.7. Joint ventures
13.8. Social media marketing plan
14. Education/Employee Development
14.1. Purina Sponsored Events
14.2. Customer Service
14.3. Product Knowledge
14.4. Company Meetings
14.5. Incentive Plans
14.6. Employee evaluations
14.7. do a benefit summary on a quarterly basis
15. Vendor Relationships
15.1. Develop better relationships
15.2. Explore additional relationships
15.3. Leverage Ruth and Rusty relationship
15.4. Leverage Larry Drennan relationship
15.5. Blue Seal and Nutrena reps
15.6. Rythem of Vendor Deliveries
15.7. Reorder Points
16. Transition from Bill Pitney
16.1. Vendor list
16.2. Ordering protocol
16.3. Pricing issues
16.4. Inventory re-order points
16.5. Staffing
16.6. ensurance that he steps away from main store
17. Efficiency Issues
17.1. Look at Florida guy
17.2. Look at Lee Hall stuff
17.3. Longer Truck Beds
17.4. Use staging area for Station Lane
17.5. Day off like Hallway Feeds
17.6. use of rail station
17.6.1. sell excess feed to competitors
17.6.2. store feed in bowl
17.7. get interns from the state schools
18. Station Lane
18.1. Intermodal Containers need to get 28 ffoters delivered instead of 54 footers
18.2. move hay and straw ops to East Avenue
18.3. ensure as few trailers as possible are charged mothly rent by nyra
19. Customer Delivery Issues
19.1. Min. Order
19.2. Frequency
19.3. Optimizing Routes
19.4. Staffing
19.4.1. Winter Time adjustments
19.5. Add on Sales
19.5.1. Incentives for selling more
19.6. Possible tack/item truck during the meet
19.7. Use of Drop Trailers where possible
20. Order Taking
20.1. Better Process
20.2. use of Ipad
20.3. use of golf cart/gator
20.4. Process of using data for reorders instead of just looking at lofts
21. Warehouse Operations
21.1. Better process to stage
21.2. Receipt and deliveries of items
21.3. Hay Grab
21.3.1. Use of smaller trailers vs. largers ones
21.4. Longer Trucks
21.5. Possible Moffett
21.6. Inventory control items
22. Equipment Issues
22.1. What is the maintenance Plan for each?
22.2. Decals and phone numbers on truck
22.3. What new equipment do we need?
23. Project to reduce number of similar products we buy and sell
23.1. What feeds appear similar
23.2. What items do we sell very few of?
24. balanced scorecard
25. peak season planning and strategy
26. Purchase Documents
26.1. a/r at June 30 - Ensure the cutoff of things as of that date
26.2. Due to Fasig payment plan
26.3. Working capital
26.4. other financial debits and credits to Fasig
27. Locked down value of Fixed Assets
28. Signover on July 1 Actions
28.1. Asset value
28.2. Inventory Value
28.3. New WPT LLC
28.4. Purchase Agreement
28.5. Operating Agreement
29. Purchase Agreement
29.1. Develop a new LLC for WPT to own
29.2. 4 year payment terms
29.3. Not purchasing A/R as of 6/30
29.4. Calculation of Inventory/PP&E as of 6/30
30. Movement of Store
30.1. Other Site(s)
30.1.1. Lease of existing tenants
30.1.2. reconfiguration of building
30.1.3. office space
30.1.4. Lease details
30.1.5. Permits needed?
30.1.6. Movement plan/timeline
30.1.7. Use of Mike Ingersoll
30.1.8. Use of Sonny Bonacio
30.1.9. Use of Purina consulting
31. Inventory actions
31.1. count on a quarterly basis
31.2. count/inspect PP&E October/April
32. Controller Items
32.1. Look at Bringing on Controller
32.1.1. ****A/R Issues
32.1.1.1. Billing Protocal
32.1.1.2. Focus on overdue accounts
32.1.2. ****COGS Issues/Sales not in alignment due to how we book them
32.1.3. Look at Quickbooks Issues
32.1.4. Processes for efficiency improvements
32.1.5. Job Description
32.1.6. Position Search
32.1.7. How to deal with Inventory
32.1.8. What does Teresa at Fasig Tipton do? How can we cut dow non these takss
32.1.9. Order taking/Processing
32.1.10. Technology Issues
32.1.11. Implement integrated inventory system
33. Operating Agreement
33.1. monthly management fee
33.2. Line of Credit from FT
33.3. Co-management issues
34. Core Priorities for to end of 3rd Quarter (October 1)
34.1. ***Pricing Matters
34.1.1. Focus on Thoroughbred Silo Margin
34.1.2. What deals with what trainers?
34.1.3. Evaluate the system used to date for pricing changes (Bill P. Folder) How are they incorporated into QB's.
34.1.4. Have Bill P. explain how the customers are reacting and/or will react.
34.1.5. What are the products least likely to incite negative reaction from Clients
34.1.5.1. Hay/Straw
34.1.5.2. Feed
34.1.5.2.1. High Quality
34.1.5.2.2. Low Quality
34.1.5.3. High Performance Feed
34.1.5.4. Shavings
34.1.5.5. New node
34.1.6. Thorough review of Vendor Relationships
34.1.6.1. Biggest targets of opportunities
34.1.6.1.1. Purina
34.1.6.1.2. Hay/straw and shaving suppliers
34.1.6.2. Discounts and incentive programs used/not used
34.1.7. Evaluate individual product pricing margins
34.2. ****A/R Issues
34.2.1. Billing Protocal
34.2.2. Zito
34.2.3. Set process to collect O/S balances
34.2.4. John Deere plan
34.3. Quickbooks matter
34.3.1. Backup plan
34.3.2. Who has access
34.3.3. Integration w/ Bank
34.3.4. Begin process to integrate w/ future inventory system
34.4. ****COGS Issues/Sales not in alignment due to how we book them
34.4.1. quarterly inventory counts
34.4.2. monthly "plug" number and qtrly journal entry
34.5. Time Clock and personnel Matters
34.5.1. Cut down on overtime
34.6. Retail procedures and concerns for theft
34.6.1. customer access to back area of the store and trailers
34.6.2. monthly breakdown of individual items sold
35. Core priorities for 6-months
35.1. Analyze pricing/Increase margins/reduce COGS via relationships/programs w/ vendors
35.2. Implement policies and control A/R
35.3. Begin process to move property
35.4. Improve efficiencies
36. Performance Metrics
36.1. Receivable Agings
36.2. Sales/Payroll ratio
36.2.1. Over-time analysis
36.3. Gross Margin
36.4. Cash flow/Debt analysis
36.5. Inventory ratios
37. five silos of the business
37.1. Thoroughbreds
37.2. Standardbreds
37.3. Horseshow People
37.4. Walk In Business
37.5. Farms
38. Weekly Meetings
38.1. Billy
38.1.1. Receivables
38.1.2. Staffing
38.1.2.1. Overtime
38.1.2.2. Performance
38.1.3. Inventory
38.1.4. Customer acquisition
38.1.5. Increasing sales
38.1.6. Workchart
38.1.7. Slow-time plan
38.2. Liz
38.2.1. Receivables update
38.2.1.1. Evaluation of her performance
38.2.2. Price changes/updates
38.2.3. Ratio analysis
38.2.3.1. What are the reports we need to look at?
38.2.3.1.1. Look at report for customer spend for each of the last three years
38.2.4. Office presence
39. John Deere Financial
39.1. Who is eligible?
39.2. Fees?
39.3. Ongoing analysis
39.4. How other Companies handle "core group" of customers
40. Dennis Items
40.1. Adding trailers for Darley and
40.2. Overtime issue
40.3. Pricing changes
40.4. Receivables
40.5. Bill p future
40.6. Winter work
40.7. Sales packages
40.8. Delivery planning
40.9. Customer evaluations. Not every customer is a good one
40.10. What are the prices Todd pays at different tracks
40.11. GPS for trucks
40.12. Average retail value of trucks that go out
40.13. Intermodal containers
40.14. John keep?
40.15. Other sources for hay and straw
40.16. Loading ramp
40.17. Talk to mike ingersoll
40.18. How are we planning with clients (ie pletcher, etc ready to move)
40.19. how are we doing inventory and cutting down on companies - Blue Seal
41. is everyone on chatter?
42. is everyone on chatter?