Instant Content Curator Pro Training Webinar #1
by
Hugh J. Hitchcock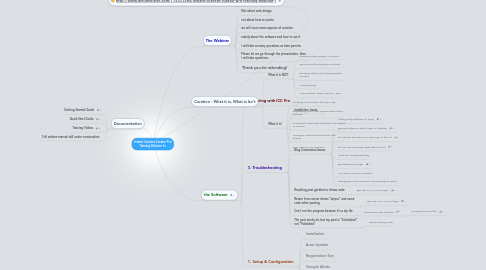 0.0
stars - reviews range from
0
to
5
2. Posting with ICC Pro
Selecting News Items
Research Source Article
Images, Source article, Flickr, Wiki Commons, Google search, Any image you can find
Videos, YouTube, Other Sources
Edit HTML source
EzineArticles, API Key, Categories & Articles, Select Article, EZine Rules, Curate & Post.
WP Auto Add Tags
3. Troubleshooting
Installation Issues, Adobe Air, Windows 7 UAC, Mac Auto Update
Blog Connection Issues, Wrong blog address or login, Spaces before or after login or address, do not put wp-admin or wp-login in the url, do not use a trailing slash after the url, Must be Wordpress blog, Bad Behavior plugin, XML-RPC must be enabled, Categories must show on Curate page to post.
Resulting post garbled or shows code, get LIB XML 2 FIX plugin
Return from server shows "strpos" and some code when posting, get LIB XML 2 FIX plugin
Can't run the program because it's a zip file, Download new installer, ask Support to email installer
The post works ok, but my post is "Scheduled" not "Published", Server timing issue
1. Setup & Configuration
Installation
Auto-Update
Registration Key
Google Alerts
Default Feed
Blog Login
Curation - What it is, What is Isn't
What it is NOT:
Stealing other people's content
Spinning other people's content
Quoting others and changing the content
Auto-posting
Auto posted, spun crap for "seo"
What it is!
Finding cool content that you dig
Expressing your own opinion about the content
Giving full credit and attribution to author or source
Giving an obvious link back to the source
Ever been to a Museum?
The Webinar
Not about web design.
not about how to curate
we will cover some aspects of curation
mainly about the software and how to use it
I will take as many questions as time permits
Please let me go through the presentation, then I will take questions.
Thank you for attending!
Documentation
Full written manual still under construction.
http://www.mindmeister.com/175323268/instant-content-curator-pro-training-webinar-1