Deep Work Rules for Focused Success in a Distracted World
by Kaan Kepir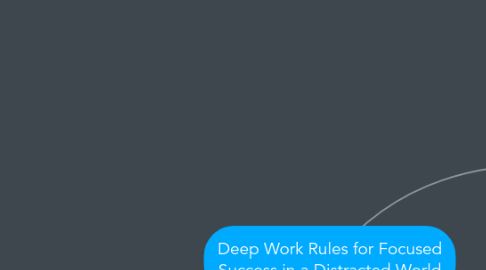 1. The İdea
1.1. What is Deep Work?
1.1.1. Proffesional activities performed in a distraction free environment that push your cognitive abilities to their limited.These efforts create new values, improve your skill and hard to replicate.
1.1.2. Technique used by almost all people who have achieved something difficult
1.1.2.1. Carl JUNG
1.1.2.2. Mark TWAİN
1.1.2.3. Woody ALLEN
1.1.2.4. JK ROWLİNG
1.1.2.5. Bill GATES
1.1.3. Opposite: Shallow Work
1.1.3.1. Non-cognitively demanding,logistical style task, often performed while distracted. These efforts tend to not create much value in the world and are easy to replicate.
1.1.3.2. Networking tools like email, social media and live chats have made it so that modern day knowledge worker will spend most of their days in shallow work unless they work against it!
1.2. Deep Dork is Valuable
1.3. Deep Work is Rare
1.4. Deep Work is Meaningful
2. The Rules