What was useful and helpful in this course?
by Colleen Sugrue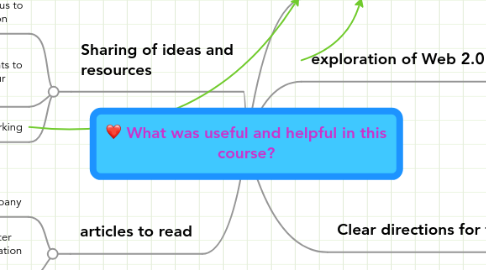 1. articles to read
1.1. 6 Myths of Creativity: Fast Company
1.2. Six Essentials to Foster Creativity and Innovation in the Classroom
2. Sharing of ideas and resources
2.1. lesson plans helped us to see creativity in action
2.1.1. google earth/geocaching
2.1.2. songwriting
2.2. Reflections and posting of comments to classmate's reflections increased our understanding
2.3. Social Bookmarking
3. delicious
4. exploration of Web 2.0 tools
4.1. video introductions and how-tos
4.2. mindmeister!!
5. Clear directions for tasks