Social Shares is the New SEO
by
neil ferree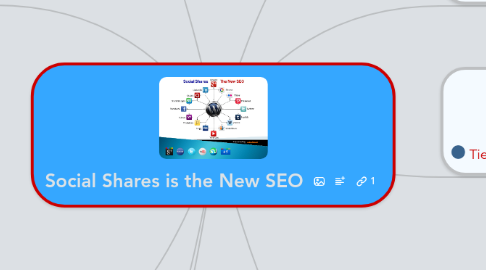 4.9
stars -
43
reviews range from
0
to
5
Social Shares are becoming the New SEO. If you increase your social shares you will improve your SEO and SERP results. Follow the process in this mind map to increase your social shares • grow your social connections • improve your SEO and conversion rates.
Tier 1 Social
The 20/80 Rule applies to this Tier 1 set of web 2.0 properties. IOW, 80% of the traffic comes from 20% of the sites. At a minimum, make sure you have an active profile on each of these 6x social networks.
To increase your Social Shares you need to know which social network you have an active social profile? Here's an easy way to do this Run a Knowem scan to ID where you have an active profile Make sure your profile is the same for all web 2.0 properties Profile Headshot • Logo Biography • Details NAP (name, address, phone #)  
SEO has many moving parts. Keyword Research is your starting point. Then On-Page Optimization + Link Building + Social Shares which is executed in a variety of ways. These articles detail the techniques I use to accomplish these tasks.
Techniques I use to optimize an article + syndicate it + share it tactics used to generate social signals and build backlinks
When you scan your Brand or your Name on KnowEm you will see they track 500+ social networks. This is a sub-set of my Tier 2 profiles. Circle me on Google+ for more details on this.
Anytime you get a Page 1 SERP for a target keyword phrase your traffic will increase A LOT. Knowing what KW's you should target is critical. I've come up with a sure fire technique to determine what my KW's should be. Circle me on Google+ and drop me a line so I can detail you on this proven process.
Social Tools
There are Hundreds of Tools avail to help manage and monitor your social networks. I will update this element with new entries once I have fully tested the tool on my own accounts. This first set is geared towards Twitter management.
Commun.it is an awesome Twitter Management Application for attractive and engaging targeted Twitter people
HooteSuite is best of class Tool
How to Navigate
To visit an External LINK in an Active Element • simply hover over the Arrow and Click the URL
Call Neil 424-248-5122 Directly or Visit My Website www.FerreeMoney.com