ENGLISH CLASS
by Maricielo Dominguez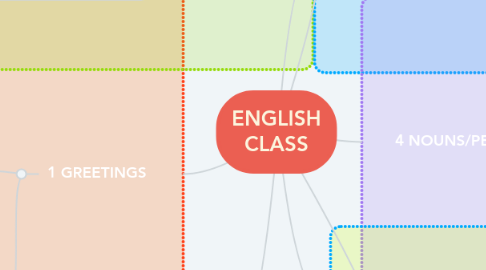 1. 3 Wh" question: how old, when
1.1. WHO Quién, quiénes WHOSE De quién WHEN Cuándo WHY Por qué HOW Cómo , cuán WHAT Qué WHICH Qué, cuál WHERE Dónde
2. 1 GREETINGS
2.1. SALUDOS FORMALES Hello Good morning Good afternoon Good evening Good night
2.1.1. How are you today ? I´m fine, thank you Very good, thank Great I´m very well, delighted to participate in the class
2.2. SALUDOS INFORMALES Hi Hey What´s up? What´s happening
2.2.1. How are you doing? I´m very good Excellent I feel bad I have the flu I´m not feeling well
3. 2 NUMBERS
3.1. cardinal number
3.1.1. are used to count and answer the question "how many?"
3.1.1.1. EXAMPLE: one, two, three, four, five, six, thirteen, fifteen, twenty, one hundred, one thousand
3.2. ordinal numbers
3.2.1. We use to classify the numerical order, it can be size, position in a race, age, time of day.
3.2.1.1. EXAMPLE: first, second, third, fourth, Today is Moday February 08th, 2021 I study in the fifth cycle. I study in the 5th cycle. Time: WHAT TIME IS IT? It´s 3:00 o´ clock
4. 4 NOUNS/PERSONAL PROMOUNS
4.1. 1º persona singular I (AM) plural WE (ARE) 2º persona singular YOU (ARE) plural YOU (ARE) 3º persona singular HE SHE IT (IS) plural THEY (ARE)
4.2. I am / I am not/Am I...? IS HE A DOCTOR?
4.3. I,you, he, she, it, we, they
5. 5 Be verb (positive, negative, questions, "Wh" questions)
5.1. question word/verb to be (are, is)/personal promouns/complement?
5.2. why/is/she/happy?
6. 6 Countries & Nationalities. "Wh" question: where.
7. 7 possessive adjectives
7.1. PERSONAL PRONOUNS
7.1.1. I, you,we, he, she, it, they
7.2. POSSESSIVE ADJECTIVE
7.2.1. me,your, our, his, her,its, their
7.3. POSSESSIVE PRONOUNS
7.3.1. Mine, yours,ours, his, hers, its, theirs