The authority and power of the Lord Jesus Christ (2 Corinthians 4:7 Amplified Bible (AMP) we possess this precious treasure in vessels of earth, that the grandeur and exceeding greatness of the power may be shown to be from God and not from ourselves) we can release by doing the following...
by Carol Essed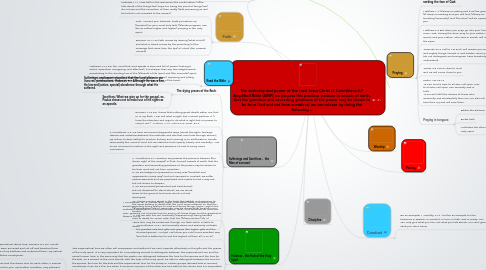 1. Praying
1.1. Persistent determination in seeking the face of God:
1.2. Matthew 7:7 [a]Keep on asking and it will be given you; [b] keep on seeking and you will find; [c]keep on knocking [reverently] and [the door] will be opened to you.
1.3. Matthew 6:6 But when you pray, go into your [most] private room, and, closing the door, pray to your Father, Who is in secret; and your Father, Who sees in secret, will reward you in the open.
1.4. Jeremiah 33:3 Call to Me and I will answer you and show you great and mighty things, fenced in and hidden, which you do not know (do not distinguish and recognize, have knowledge of and understand).
1.5. James 4:8 Come close to God and He will come close to you.
1.6. Psalm 145:18-19 18 The Lord is near to all who call upon Him, to all who call upon Him sincerely and in truth. 19 He will fulfill the desires of those who reverently and worshipfully fear Him; He also will hear their cry and will save them.
1.7. Praying in tongues:
1.7.1. Edifies the believer
1.7.2. Builds faith
1.7.3. Cultivates the other gifts of the Holy Spirit
2. Fasting
3. Sufferings and Sacrifices - the Man of sorrows!
3.1. The dying proces of the flash:
3.1.1. Sufferings; unpleasant situations that the Lord allows in our lives, ex. persecutions. Hebrews 5:8 Although He was a Son, He learned [active, special] obedience through what He suffered.
3.1.2. Sacrifices; What we give up for the gospel, ex. Paulus choses not to make use of his rights as an apostle.
3.2. Romans 7:18 For I know that nothing good dwells within me, that is, in my flesh. I can will what is right, but I cannot perform it. [I have the intention and urge to do what is right, but no power to carry it out.] 2 chron. 7:14, Acts 24:16, Rom. 8:13.
3.3. 2 Corinthians 4:2 We have renounced disgraceful ways (secret thoughts, feelings, desires and underhandedness, the methods and arts that men hide through shame); we refuse to deal craftily (to practice trickery and cunning) or to adulterate or handle dishonestly the Word of God, but we state the truth openly (clearly and candidly). And so we commend ourselves in the sight and presence of God to every man's conscience.
3.4. 2 Corinthians 4:7 However, we possess this precious treasure [the divine Light of the Gospel] in [frail, human] vessels of earth, that the grandeur and exceeding greatness of the power may be shown to be from God and not from ourselves. 8 We are hedged in (pressed) on every side [troubled and oppressed in every way], but not cramped or crushed; we suffer embarrassments and are perplexed and unable to find a way out, but not driven to despair; 9 We are pursued (persecuted and hard driven), but not deserted [to stand alone]; we are struck down to the ground, but never struck out and destroyed; 10 Always carrying about in the body the liability and exposure to the same putting to death that the Lord Jesus suffered, so that the [[a]resurrection] life of Jesus also may be shown forth by and in our bodies. 11 For we who live are constantly [experiencing] being handed over to death for Jesus' sake, that the [[b]resurrection] life of Jesus also may be evidenced through our flesh which is liable to death.
4. Read the Bible
4.1. Hebrews 4:12 For the Word that God speaks is alive and full of power [making it active, operative, energizing, and effective]; it is sharper than any two-edged sword, penetrating to the dividing line of the [a]breath of life (soul) and [the immortal] spirit, and of joints and marrow [of the deepest parts of our nature], exposing and sifting and analyzing and judging the very thoughts and purposes of the heart.
5. Worship
6. Holiness - the fruit of the Holy Spirit
6.1. 1 Corinthians 13:13 And so faith, hope, love abide [faith—conviction and belief respecting man's relation to God and divine things; hope—joyful and confident expectation of eternal salvation; love—true affection for God and man, growing out of God's love for and in us], these three; but the greatest of these is LOVE.
6.2. 1 Corinthians 12:31 But earnestly desire and zealously cultivate the greatest and best gifts and graces (the higher gifts and the choicest graces). And yet I will show you a still more excellent way [one that is better by far and the highest of them all—LOVE].
6.3. This supernatural love we often call compassion and without it we can't operate effecitively in the gifts and the graces of the Holy Spirit. It is very important for a ministering servant to distinguish between this supernatural love and the carnal human love, in the same way that the pastor can distinguish between the love for the spouse and the love for the kids. So a servant of the Lord should, with the help of the Holy Spirit, be able to distinguish between the love for the spouse, the love for the kids and the supernatural love for the sheep or certain groups (abused kids or women). Sometimes it can be a thin line when it concerns a person of the other sex, but without this divine love it is impossible to function as a ministering servant of Almighty God.
6.3.1. Paul knew this supernatural divine love; Romans 9:3 For I could wish that I myself were accursed and cut off and banished from Christ for the sake of my brethren and instead of them, my natural kinsmen and my fellow countrymen.
6.3.2. David and Jonathan had this divine love for each other; 2 Samuel 1:26 I am distressed for you, my brother Jonathan; very pleasant have you been to me. Your love to me was wonderful, passing the love of women.
6.4. 1 Corinthians 14 Eagerly pursue and seek to acquire [this] love [make it your aim, your great quest].
7. Discipline
8. Faith
8.1. Hebrews 11:1 Now faith is the assurance (the confirmation, [a]the title deed) of the things [we] hope for, being the proof of things [we] do not see and the conviction of their reality [faith perceiving as real fact what is not revealed to the senses].
8.2. Jude 1:20 But you, beloved, build yourselves up [founded] on your most holy faith [[a]make progress, rise like an edifice higher and higher], praying in the Holy Spirit;
8.3. Romans 10:17 So faith comes by hearing [what is told], and what is heard comes by the preaching [of the message that came from the lips] of Christ (the Messiah Himself).
9. Signs and Wonders-the effectiveness of the church. Where is the power operating in the gifts of the Holy Spirit (the power that enables believers to move in the Spirit)?!!!
9.1. God shows His approval by signs, wonders, miracles and through the gifts of the Holy Spirit Hebrews 2:4 [Besides this evidence] it was also established and plainly endorsed by God, Who showed His approval of it by signs and wonders and various miraculous manifestations of [His] power and by imparting the gifts of the Holy Spirit [to the believers] according to His own will. Mark 16:20 And they went out and preached everywhere, while the Lord kept working with them and confirming the message by the attesting signs and miracles that closely accompanied [it].
10. Conduct
10.1. Be an example! 1 Timothy 4:12 - but be an example for the believers in speech, in conduct, in love, in faith, and in purity. You can only give what you live, not what you talk about! You can't give what you don't have!