Website Redesign Project Plan
by
Mindmeister Admin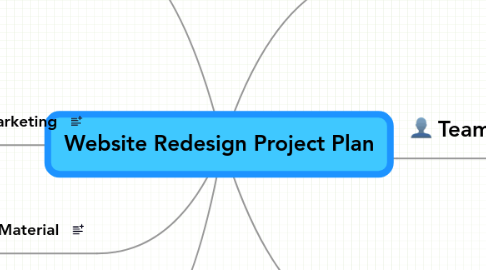 4.1
stars -
25
reviews range from
0
to
5
Website Redesign Project Plan
Project Schedule
Project Milestones
M1
Concept Meeting
User Interface Draft
Feature Debate
Draft Sitemap
M2
Update Existing Content
Media Collection
Testing
M3
Engine Optimizing
M4
Marketing Methods
M5
Beta Access
Bug-Fixing
Team
Graphic artists
Michael
John
AJAX
Andrew
Lucia
Marketing
Elliot
SQL
Do we need SQP programmers anyway? We've got this PHP library to abstract all calls ....
Oliver
Thomas
Target Market
Location
Language
Education level
Academic
Business
Departments
Objectives
Look & Feel
Upgrade to web 2.0
Friendly
Simple to use
Less busy
More Users
Membership Options
Grow Community
Feedback
Become Viral
Language Support
New Features
Customize Everything
Mobile Access
Templates
Online Billing
Open-ID Support
SEO
Ads
Tags
Budget
Cut costs
More Online Advertising
Marketing
Marketing is an ongoing process of planning and executing the marketing mix (Product, Price, Place, Promotion often referred to as the 4 Ps) for products, services or ideas to create exchange between individuals...
Promotion
Newsletter
Banner Ads
Google Ads
Blogs
Community Groups
Strategy
Visitors, Unique, Bookmark Visitors, Redirect
Material
Corporate Identity Material
Corporate Identity
Logo, Redesign
Images, Intranet
Template Pages, TBA
Sitemodels, TBA
Documents, TBA
Budget
Budget (from french bougette, purse) generally refers to a list of all planned expenses and revenues. A budget is an important concept in microeconomics, which uses a budget line to illustrate the trade-offs...
2 months
10.000 $