Ending the Scarcity Cycle
by Scott Kruse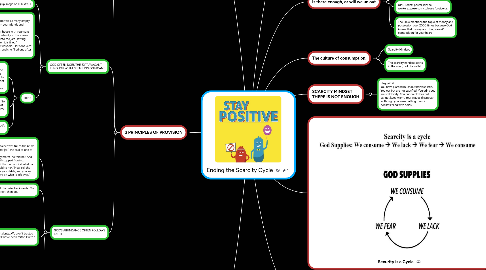 1. HOW DO WE INOCULATE OUR SELVES AGAINST THE SCARCITY MINDSET?
1.1. 2 Kings 4:1 One day the widow of a member of the group of prophets came to Elisha and cried out, "My husband who served you is dead, and you know how he feared the Lord. But now a creditor has come, threatening to take my two sons as slaves."
1.2. Contex
1.2.1. Current King of Israel led the nation to turn from God and worship false idols
1.2.2. Widow one of the few in Israel still honoring the Lord. Husband was prophet had died.
1.2.3. Left her with deep amount of debt. Creditors are coming
1.2.4. Mosaic law allowed you to enslave others to settle the debt. Sons were about to become slaves. Desperate
2. 3 PRINCIPLES OF PROVISION
2.1. DON'T DIMINISH WHAT YOU HAVE
2.1.1. BECAUSE WHAT YOU HAVE AIN'T NOTHING!
2.1.1.1. 2 Kings 4:2 2 "What can I do to help you?" Elisha asked. "Tell me, what do you have in the house?"
2.1.2. SCARCITYIS FIXED ON WHAT I LACK. ABUNDANCE ASKS, "WHAT DO I HAVE?"
2.1.2.1. The farmer would never harvest a crop if he always diminished the tiny insignificance of the seed
2.1.2.2. He doesn't see it for what it is....but for what it will produce when planted
2.2. GOD OFTEN DOES THE EXTRAVAGANT THROUGH WHAT SEEMS INSIGNIFICANT.
2.2.1. Bring up image on LED WALL
2.2.2. 2 Kings 4:3-5 3 And Elisha said, "Borrow as many empty jars as you can from your friends and neighbors. 4 Then go into your house with your sons and shut the door behind you. Pour olive oil from your flask into the jars, setting each one aside when it is filled." 5 So she did as she was told. Her sons kept bringing jars to her, and she filled one after another.
2.2.2.1. Faith of a 'mustard seed' to move a mountain
2.2.3. TITHE
2.2.3.1. Malachi 3:1 "Look! I am sending my messenger, and he will prepare the way before me. Then the Lord you are seeking will suddenly come to his Temple. The messenger of the covenant, whom you look for so eagerly, is surely coming," says the Lord of Heaven's Armies.
2.2.3.2. Why a percentage and not an amount? So everyone could experience the miracle of God's provision. Even a 10-yr-old can give 10% of his allowance
2.2.3.3. Your "Nothing" is often God's "Something."
2.3. GOD'S ABUNDANCE OFTEN FOLLOWS FAITH
2.3.1. 2 Kings 4:6-7 Soon every container was full to the brim! "Bring me another jar," she said to one of her sons. "There aren't any more!" he told her. And then the olive oil stopped flowing. 7 When she told the man of God what had happened, he said to her, "Now sell the olive oil and pay your debts, and you and your sons can live on what is left over."
2.3.2. We tend to get the order backwards...God I need more...great, then pou
2.3.3. Parable of the talents...We aren't trusted with more, until we've been faithful with a little
2.3.3.1. Most every time I've gotten spiritually stuck was because I STOPPED POURING and started STORING.I started to find my happiness in the things of this world
2.3.3.2. Some of you are spiritually stuc
2.3.3.3. Give your way out of it
2.3.3.3.1. Compassion
2.3.3.3.2. Resources
2.3.3.3.3. Finances
2.3.4. OWASSO
2.3.4.1. Significant gift
2.3.4.2. Witch
2.3.4.3. Josh
2.3.4.4. Scholarship
3. I'VE GOT THE FAITH TO POUR BECAUSEI BELONG TO THE GOD OF "MORE."
3.1. Tough times
3.1.1. Good news
3.1.2. God is providing
3.2. 2 Corinthians 9:8 And God will generously provide all you need. Then you will always have everything you need and plenty left over to share with others.
3.3. 2 Corinthians 9:11 11 Yes, you will be enriched in every way so that you can always be generous. And when we take your gifts to those who need them, they will thank God.
3.4. The goal of life is to be filled, to achieve, to collect
3.4.1. When you think about what He did for us
3.4.2. There is no reasonable response than to pour out your life for him. Holding nothing back nothing.
3.4.2.1. Like currency
4. The Paradox of 2020
4.1. Too much hate
4.1.1. not enough love
4.2. Too many need
4.2.1. not enough supply
4.3. Too much fear
4.3.1. not enough peace
4.4. To much time
4.4.1. not enough people to work
4.5. Yet during all of this
4.5.1. Gospel message is flourishing
4.5.2. There are those looking to serve others who are struggling
4.5.3. people are selflessly giving to meet others' needs
4.5.4. churches making history working together all over the world
5. Is there enough, or will we un out
5.1. Culture of consumption. How can you tell that we have a culture of consumption?
5.2. The face of the UPS driver over the last 2-3 months of quarantine....he has come to your house everyday
5.3. UPS, Fedex, postal service workers...we're sorry...please forgive us.
5.4. The Bible mentions the topic of money and possession over 2000 times because God knows that money and things are #1 competition for your heart
6. The culture of consumption.
6.1. Scarcity Mindset
6.2. The scarcity mindset starts in the mind, not the wallet.
7. SCARCITY MINDSET THERE IS NOT ENOUGH
7.1. Haggai 1:6 You have planted much but harvest little. You eat but are not satisfied. You drink but are still thirsty. You put on clothes but cannot keep warm. Your wages disappear as though you were putting them in pockets filled with holes!
8. Security is a Cycle
8.1. The great toilet paper run of 2020
8.1.1. Paper vid
9. ABUNDANCEMINDSET-THERE IS MORE THAN ENOUGH
9.1. Ephesians 3:20 20 Now all glory to God, who is able, through his mighty power at work within us, to accomplish infinitely more than we might ask or think.
9.2. Everything about God is excessive, extravagant, more than enough.
9.3. If you view life through the lens of scarcity, we will always be fearful and anxious. Jesus has a much different plan for you.
10. QR