VARIABLES
by ALYANNA MARIE DILLA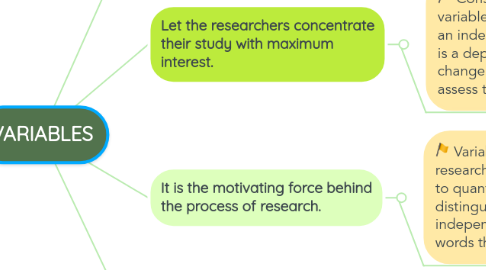 1. Identify the cause-and-effect relationships.
1.1. Cause and effect may assist explain the concepts of "independence" and "dependency" in the independent and dependent variables. Since not all variables in the study are directly linked, they may assist determine their independence or dependence.
2. Assist in the measurement of ideas in a research
2.1. Determining the correct variables is critical in research that measures and discusses factors.
2.1.1. THE KINDS OF MEASUREMENT VARIABLES
2.1.1.1. ORDINAL VARIABLES
2.1.1.2. INTERVAL VARIABLES
2.1.1.3. NOMINAL VARIABLES
2.1.1.4. RATIO VARIABLES
3. Let the researchers concentrate their study with maximum interest.
3.1. Consider independent and dependent variables as causes and effects. A cause is an independent variable, whereas an effect is a dependent variable. In a study, you change the independent variable and then assess the result.
3.1.1. THE VARIABLES IN AN EXPERIMENT
3.1.1.1. Independent
3.1.1.2. Dependent
3.1.1.3. Controlled
4. It is the motivating force behind the process of research.
4.1. Variables help to narrow the scope of the research. It's something you're attempting to quantify. The easiest method to distinguish between dependent and independent variables is to look at the words themselves.