INPUT/OUTPUT DEVICES
by Carolyn Clarke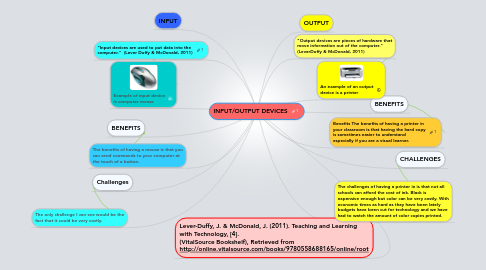 1. CHALLENGES
2. BENEFITS
3. "Output devices are pieces of hardware that move information out of the computer." (LeverDuffy & McDonald, 2011)
4. "Input devices are used to put data into the computer." (Lever Duffy & McDonald, 2011)
5. Benefits The benefits of having a printer in your classroom is that having the hard copy is sometimes easier to understand especially if you are a visual learner.
6. The benefits of having a mouse is that you can send commands to your computer at the touch of a button.
7. Example of input device is computer mouse
8. An example of an output device is a printer
9. INPUT
10. OUTPUT
11. Challenges
12. The challenges of having a printer in is that not all schools can afford the cost of ink. Black is expensive enough but color can be very costly. With economic times as hard as they have been lately budgets have been cut for technology and we have had to watch the amount of color copies printed.
13. Lever-Duffy, J. & McDonald, J. (2011). Teaching and Learning with Technology, [4]. (VitalSource Bookshelf), Retrieved from http://online.vitalsource.com/books/9780558688165/online/root
14. BENEFITS
15. The only challenge I can see would be the fact that it could be very costly.