How Music affects emotion
by Presley Gasparlin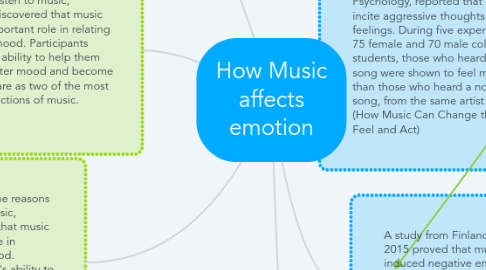 1. A study from Finland in 2015 proved that music induced negative emotion the same way it did positive ones. Emotions like aggression, anger, even sadness can all bubble inside us simply because of music (Heid 1)
1.1. Music is often associated with happier emotions; however, the effects of this study prove that music can also induce negative emotions such as anger.
2. Listening to this kind of music can help us process the complex feeling that come with being sad. While many may think listening to sad music will just make things worse, there has been research that suggests otherwise. Researchers have concluded that, rather than acting like a "downer" of sorts, listening to sad music offered an easy way to productively process through the sadness and pain. Some researchers even saw listening to sadder music as cathartic to people who were already feeling sad ("How Different Genres"1).
2.1. Listening to sad music can make processing unhappy emotions more enjoyable and productive. Music can help us process more difficult emotions, meaning it can possibly be theraputic and beneficial.
3. "The psychology of music was found in a recent medical study to actually reduce physical pain. Individuals with traumatic brain injuries were subjected to relaxing, controlled music or sounds for certain periods of time, and the conclusions found that music dramatically improved the mood of the patient, and reduced the pain" (How Different Genres)
3.1. Proof music can be physically beneficial and reduce pain
4. "Another paper, published in 2003 in the Journal of Personality and Social Psychology, reported that music can incite aggressive thoughts and feelings. During five experiments with 75 female and 70 male college students, those who heard a violent song were shown to feel more hostile than those who heard a nonviolent song, from the same artist and style." (How Music Can Change the Way you Feel and Act)
4.1. More proof that music can have negative affects and cause anger and aggression
5. In one examination of the reasons why people listen to music, researchers discovered that music played an important role in relating arousal and mood. Participants rated music's ability to help them achieve a better mood and become more self-aware as two of the most important functions of music. (Cherry)
5.1. Music Improves mood
6. In one examination of the reasons why people listen to music, researchers discovered that music played an important role in relating arousal and mood. Participants rated music's ability to help them achieve a better mood and become more self-aware as two of the most important functions of music. (Cherry)
6.1. Beneficial as therapy and in treating mental health