FIVE LEARNING THEORIES
by Vicky Hamplas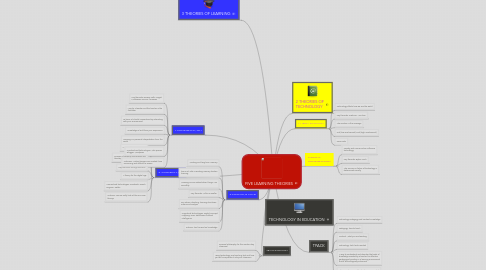 1. 1.MEDIA ECOLOGY
1.1. Technology affects how we see the world
1.2. Key theorists: Postman, McLuhan
1.3. The medium is the message
1.4. Hot (low involvement) cool (high involvement)
1.5. New node
2. 3 THEORIES OF LEARNING
3. 2 THEORIES OF TECHNOLOGY
4. 2.SOCIAL CONSTRUCTION
4.1. Society and Human action influence technology
4.2. Key theorists: Bijker, Pinch
4.3. The success or failure of technology is determined socially
5. 2. CONNECTIVISM
5.1. A newer theory since 2006
5.2. process of creating connections and developing networks
5.3. Key theorists: George Siemens
5.4. A theory for the digital age
5.5. Connectivist technologies: Facebook, Search Engines, Twitter
5.6. Criticism: can we really look at this as a new theory?
6. 1.CONSTRUCTIVISM
6.1. Key theorists: Dewey, Kolb, Piaget, Montessori, Burner, Jonassen
6.2. Mind is a teacher and the teacher is the facilitator
6.3. To learn is to build connections by interacting with your environment
6.4. Knowledge is built from your experience
6.5. Learning is a personal interpretation from the world
6.6. Constructivist technologies: Wiki spaces, Blogger, Wordpress
6.7. Criticisms: Mature learners are needed, time consuming and difficult to assess
7. 3.COGNITIVE LOAD
7.1. Working and long term memory
7.2. too much info in working memory hinders learning
7.3. Meaning occurs instead when things "run smoothly"
7.4. Key theorists: Miller & Sweller
7.5. Key ideas: Chunking, learning structures, means end analysis
7.6. Cognitivist technologies: Digital Concept mapping, Prezi, data bases, artificial intelligence
7.7. criticism: too focused on knowledge
8. TECHNOLOGY IN EDUCATION
9. TPACK
9.1. Technology Pedagogy and Content Knowledge
9.2. Pedagogy- how to teach
9.3. Content- What you are teaching
9.4. Technology- tech tools needed
9.5. A way to understand and describe the kinds of knowledge needed by a teacher for effective pedagogical practice in a learning environment that is technologically enhanced
9.6. Where pedagogy and technology can meet at an ideal spot to show content expertise
10. TEACHNOLOGY
10.1. Personal philosophy for the modern day classroom
10.2. using technology as a teaching tool and how you will incorporate it into your classroom