Adult Language Disorders and Cognitive Based Dysfunction
by Marie Valentine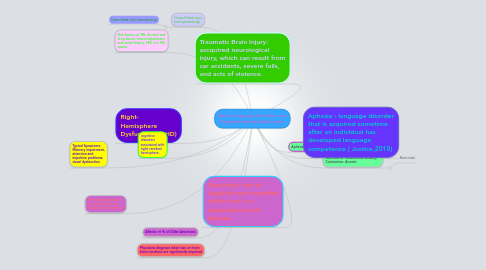 1. Risk factors of TBI: Alcohol and drug abuse, school adjustment and social history, SES, h/o TBI, sports.
2. Closed Head injury (non-penetrating)
2.1. Open Head Injury (penetrating)
3. 50% of the patients in most long-term care facilities have dementia
4. Physicians diagnose when two or more brain functions are significantly impaired
5. Affects 15 % of Older Americans
6. Typical Symptoms: Memory impairment, attention and impulsive problems, visual dysfunction
7. Aphasia Syndromes
8. Broca's, Transcortical motor, global, Wernicke's, Transcortical sensory, Conduction, Anomic
8.1. New node
9. Aphasia : language disorder that is acquired sometime after an individual has developed language competence ( Justice,2010)
10. Right- Hemisphere Dysfunction (RHD)
11. cognitive disorders associated with right cerebral hemisphere.
12. Dementia: loss of linguistic and cognitive ability due to a progressive brain disease.
13. Traumatic Brain Injury: accquired neurological injury, which can result from car accidents, severe falls, and acts of violence.