TTAC Project Mission
by Kim Monti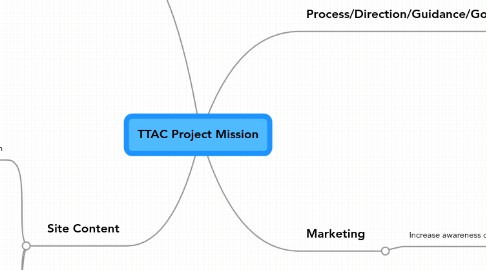 1. Contact
1.1. Collaboration
1.1.1. enabling teacher connection with or w/o contributing content to site (active and passive collaboration)
1.1.1.1. teachers sharing lessons
1.1.1.2. enable teacher contributions to content
1.1.2. flexibility for on-site information sharing
1.1.2.1. information and connection exchanged in other ways
1.1.2.2. Create community of practice for specialized groups
1.1.2.3. facilitating networking
2. Process/Direction/Guidance/Goals
2.1. Know our mission and vision
2.1.1. What is the team goal?
2.1.1.1. Complete Needs Analysis
2.1.1.1.1. Have another F2F meeting with Michael B.
2.1.1.1.2. Talk to more people involved with TTAC to get a better idea of drivers/barriers
2.1.1.1.3. Know exactly what the Immersion project would be on
2.1.1.1.4. Determine if Web 2.0 should even be pursued with this audience
3. Marketing
3.1. Increase awareness of TTAC through marketing
3.1.1. Opt in electronic newsletters for particular interest groups
3.1.2. RSS feeds/emails to notify of new content according to special interest of users
3.1.3. Create feed with job postings to draw site traffic
3.1.4. Marketing TTAC through wikis
4. Site Content
4.1. Customization
4.1.1. whats there
4.1.1.1. Develop web traffic analysis capability to harness collective intelligence of site visitors
4.1.1.1.1. Track discontent by visitors and respond to their needs
4.1.1.2. Devices are as simple as paper and pencil
4.1.1.2.1. Design for Mobile "Paper" 2.0 technology
4.1.1.3. Free up the perceived constraints found on TTAC
4.1.1.3.1. through wikis and other technologies
4.1.2. how do I get to it
4.1.2.1. Enable users to customize their own views of the site
4.1.2.1.1. Site redesign?
4.1.2.1.2. Interface customized for customer special groups
4.1.2.1.3. Look at TTAC online for ways to make it more user friendly
4.1.2.2. Developing bookmarking solutions for dynamic content
4.1.2.2.1. Have wiki for TTAC that can bookmark
4.1.2.3. Free up the perceived constraints found on TTAC
4.1.2.3.1. through wikis and other technologies
4.2. Training and/or support for mobile handheld devices
4.2.1. Teacher not being limited to space of location
4.2.1.1. training TTAC professionals on Web 2.0 tools (on site and on the job)
4.2.1.1.1. Training for handhelds
4.2.2. provide on-the-job support
4.2.2.1. Move training to podcasting
4.2.2.1.1. Develop one podcast version of one of the webshops & see if it is used
4.2.2.1.2. Flash-based webshops of PDA/mobile devices
4.2.2.2. training TTAC professionals on Web 2.0 tools (on site and on the job)
4.2.2.2.1. Training for handhelds
4.3. Students
4.3.1. advocate own needs
4.3.2. tool for teachers related to tracking their students