Targoviste, my town
by
Zoe Radulescu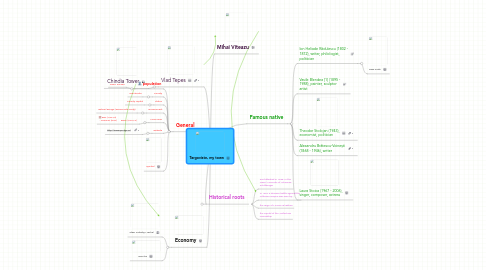 0.0
stars -
0
reviews range from
0
to
5
Targoviste, my town
Chindia Tower
Historical roots
First attested in 1396, in the Travel Accounts of Johannes Schiltberger
In 1597 a decisive battle against the Ottoman Empire was won by....
the reign of Mircea cel Bătrân
the capital of the Wallachian voivodship
Famous native
Ion Heliade Rădulescu (1802 - 1872), writer, philologist, politician
Ion Heliade Rădulescu or Ion Heliade (also known as Eliad or Eliade Rădulescu; IPA: [jon heliˈade rəduˈlesku]; January 6, 1802–April 27,1872) was a Wallachian-born Romanian academic, Romantic and Classicist poet, essayist, memoirist, short story writer, newspaper editor and politician. A prolific translator of foreign literature into Romanian, he was also the author of books on linguistics and history. For much of his life, Heliade Rădulescu was a teacher at Saint Sava College in Bucharest, which he helped reopen. He was a founding member and first president of the Romanian Academy. Heliade Rădulescu is considered one of the foremost champions of Romanian culture from the first half of the 19th century, having first risen to prominence through his association with Gheorghe Lazăr and his support of Lazăr's drive for discontinuing education in Greek. Over the following decades, he had a major role in shaping the modern Romanian language, but caused controversy when he advocated the massive introduction of Italian neologisms into the Romanian lexis. A Romantic nationalist landowner siding with moderate liberals, Heliade was among the leaders of the 1848 Wallachian revolution, after which he was forced to spend several years in exile. Adopting an original form ofconservatism, which emphasized the role of the aristocratic boyars in Romanian history, he was rewarded for supporting the Ottoman Empireand clashed with the radical wing of the 1848 revolutionaries.
The "Vasile Blendea" Museum Profile: memorial art Organized in the "Angela Georgescu" House, a residence characteristic to the 18th century architecture of Targoviste, built on cellars from the 18th century, renewed in the period 1997 - 2001, the collection Vasile and Emilia Blendea is constituted by works of plastic art (drawings, manuscripts, family pictures) and was the beneficiary of an important donation made to our institution by the painter Constantin Blendea, nephew and spiritual son of the master. In his work, the artist evokes Targoviste with its historical and cultural traditions, houses, people and places, representing an authentic fresco of the Targoviste atmosphere.
Laura Stoica (1967 - 2006), singer, composer, actress
Economy
Stear Industry Mechel
Romlux
General
population
County
status
Government
Time zone
website
Symbol
Mihai Viteazu