Feeding and Swallowing Disorder by: Krystal Speights
by
Krystal Speights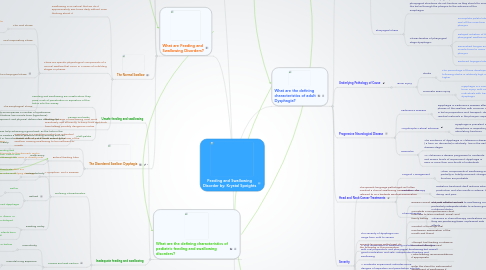 0.0
stars -
0
reviews range from
0
to
5
Feeding and Swallowing Disorder by: Krystal Speights
What are the defining characteristics of adult Dysphagia?
Defining characteristics of adult dysphagia relate to: 1. The phase of swallowing affected 2. The underlying pathology or cause 3. The severity of the disorder
Phase Affected
Gastroenterologists, internists, radiologist, and other professionals study and treat esophageal dysphagia, resulting from impairments of the esophageal phase of swallowing
Underlying Pathology of Cause
Dysphagia is a secondary disorder, meaning that it results from another primary cause. The most common cause of dysphagia are neurological damage due to a stroke, a brain injury, or a disease, and laryngeal damage due to radiation, surgical removal of the larynx, or trauma.
Progressive Neurological Disease
Progressive neurological diseases are disorders of the nervous system producing discoordination and weakness of motor skills as well as decreased sensory abilities
Head and Neck Cancer Treatments
Cancerous growths of the mouth, pharynx, and larynx are currently treated with surgery, radiation, and possibly chemotherapy
Severity
How is Adult Dysphagia identified and treated?
Clinical Swallowing Examination
Instrumental Dysphagia Examination
Evaluation of swallowing problems using technology, or instrumentation, typically provides a more objective and quantifiable measure of swallowing functions.
Treating Dysphagia
The speech-language pathologist often provides direct treatment to remediate or oropharyngeal dysphagia using two types of rehabilitation strategies: compensatory and restorative approaches
Nutrition and Dietary Considerations
What are Feeding and Swallowing Disorders?
Pediatric Feeding Disorders
Dysphagia
A swallowing disorder, or dysphagia, occurs when an individual exhibits an unsafe or inefficient swallowing disorder pattern that undermines the eating/drinking process.
The Normal Swallow
Introduction
Oral-Motor System
The physical structures and neuromuscular functions involved with both eating and speaking.
What are the defining characteristics of pediatric feeding and swallowing disorders?
Pediatric feeding and swallowing disorders may be characterized by such symptoms as a refusal to eat, eating non nutritive substances, and rigidity in eating
Unsafe feeding and swallowing
Inadequate feeding and swallowing
How are Pediatric feeding and swallowing disorders identified and treated?
Early Identification and Referral
Comprehensive Assessment
Treatment Goals in Pediatric Feeding and Swallowing