SMALL WORLD PLAY (LEARNING MISSION)
by
Ding i Ling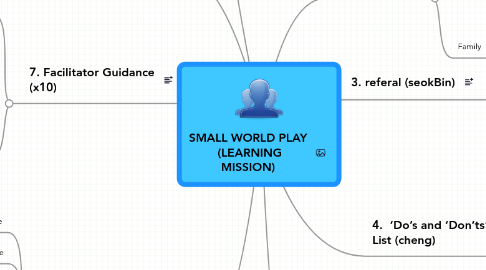 0.0
stars -
0
reviews range from
0
to
5
SMALL WORLD PLAY (LEARNING MISSION)
8. introduce of Small World Play (crystal)
Are there guidelines for play workers on how to introduce Small World Play, in terms of articulating a rationale, to their young clients, their colleagues and employers in their organization?
rationale
clients
employee
4. 'Do's and 'Don'ts' List (cheng)
Do's
Don'ts
5. bibliography /References (all group member)
Is there a bibliography of relevant resources in various media and format pertaining to Small World Play?
video
audio
text
images
7. Facilitator Guidance (x10)
Are there guidance as to their role and the facilitative skills require in response to the child's Small World Play?
Role
Skill
1.learning resource (phaik Nie)
1. Does the learning resource come with clear explanation and instruction as to what it is and how the resource is to be used
clear explanation
instruction
6. S.W.P object (pris)
Are there clear reference to the Small World Play resources e.g. play objects etc.  that may be needed the rationale for your suggestions?
Landscape
human figure
transportation
animal world
building/construaction
Fantasy
art
Music
3. referal (seokBin)
Are there references to 'what' and 'how' to observe for indicators that the child may require further specialist referral for psychological intervention from their emerging small world play which may suggest the presence of clinical psychopathology.
what
how
2. Guidelines - Assessment (Melinda)
Child
Family