New New Economy: small guys win!!
by
Benny Chin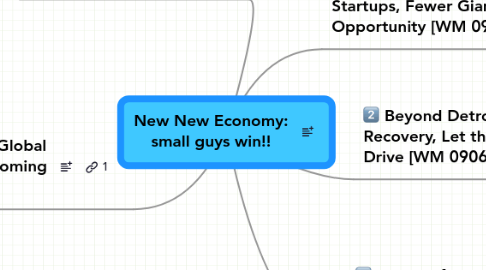 0.0
stars -
0
reviews range from
0
to
5
  由 Vertical Integration 蛻變到以 Virtual Integration 爲主導的企業新世代,終於來臨了!不僅是在個別的企業中發生,更是藉互聯網動力全球性地在業界中出現.... 正如早在上世紀八十年代末,美國麻省理工學院 (MIT) 教授 Tom Malone 所預言:互聯網將導致大企業分散重組--decentralize and externalize ,構成新的企業生態。 理由嗎?十分簡單:典型的二十世紀大企業的優勢,是整合經營,務求「肥水不流別人田」,把交易成本 (transaction costs) 減至最低。今天,透過環球分散式的資訊網絡聯繫,互聯網成了「工作平台」,複雜的工序在其上得以「拆細重組」,讓任何個別工作者都可以參與競爭,不單打破了地域的限制,更打開無限創新空間,使經營效益大大提高。就如 The World is Flat 一書的作者 Thomas Friedman 在這段短片所描述的。 但環顧全球跨國企業,廿多年來,上述的分拆重組不單並未出現,反倒在牛氣十足的股市催逼下不斷膨漲。直至2008年9月,隨著次按危機爆發,美國投資銀行開始接連倒閉或被逼轉型,各大企業相應收縮,國際社會才猛然警覺,這並非一場週期性的經濟調整,而是一次劃時代的全球政經運作模式徹底轉變.... 危機過後,隨之而來的廿一世紀經濟,將會是個甚麼樣子?最新一期的權威 I T 科技雜誌 Wired Magazine, 刊登了四篇有關文章: The New New Economy: More Startups, Fewer Giants, Infinite Opportunity Beyond Detroit: On the Road to Recovery, Let the Little Guys Drive Secret of Googlenomics: Data-Fueled Recipe Brews Profitability The New Socialism: Global Collectivist Society Is Coming Online 其中資料,爲未來在職人士勾畫了一幅甚具啟示性的圖畫: The next new economy, the one rising from the ashes of this latest meltdown, will favor the small! The rise of cloud computing means that young firms no longer have to buy their own IT equipment, which helps them avoid having to raise money or take on debt. Likewise, the webification of the supply chain in many industries, from electronics to apparel, means that even the tiniest companies can now order globally, just like the giants. 現謹選錄各篇文章部分片段,在 Concept Map 中列出供讀者參考。
Excerpt: If a domestic auto industry is to survive, it will have to incorporate and encourage breakthroughs from outsiders.... Automakers will need to transition from a vertical, proprietary, hierarchical model to an open, modular, collaborative one, becoming central nodes in an entrepreneurial ecosystem....
從本文以下的節錄,可以了解今天的 Google,已不單是個 Search Engine,更是個競投平台(Aution Platform), 在其上可產生供求關係:   In the midst of financial apocalypse, the gadflies and gurus of the global marketplace are gathered at the San Francisco Hilton for the annual meeting of the American Economics Association.... "I'm going to talk about online auctions," says Hal Varian, the session's first speaker. Varian is a lanky 62-year-old professor at UC Berkeley's Haas School of Business and School of Information, but these days he's best known as Google's chief economist.... During the question-and-answer period, a man wearing a camel-colored corduroy blazer raises his hand. "Let me understand this," he begins, half skeptical, half unsure. "You say that an auction happens every time a search takes place? That would mean millions of times a day!" Varian smiles. "Millions," he says, "is actually quite an understatement." ....
這篇文章更「激」,作者 Kevin Kelly 提出,未來世界將是一個透過網上協作(online collaboration)而產生的新社會主義社會(New Socialism),具備了 sharing, cooperation, collaboration, and collectivism 的特色, 如下: Power distributed among ad hoc participants Unlimited, free cloud computing Volunteer group work a la Wikipedia Sharing protected by Creative Commons Real-time Twitter and RSS feeds Passionate opinions on the Huffington Post
Excerpt: "Involuntary entrepreneurship" is now creating tens of thousands of small businesses and a huge market of contract and freelance labor. Many will take full-time jobs again once they become available, but many others will choose not to. The crisis may have turned our economy into small pieces, loosely joined, but it will be the collective action of millions of workers hungry for change that keeps it that way....