UL PD Website
by Wai Ling Fong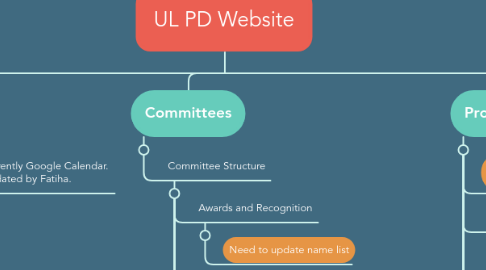 1. Home
2. Resources
2.1. Home: Living Out Values Initiative
2.1.1. Link not working
2.2. Media Library
2.2.1. Resources
2.2.1.1. Administrative Professionals
2.3. UL Gives Back
3. Programs and Initiatives
3.1. anything that is active should be up and prioritized
3.2. Home page is empty
3.2.1. Need description
3.3. Administrative Professional Network
3.4. Programs for Supervisors
3.5. Recognize a Colleague
3.6. UL Social Network
3.7. Upcoming Programs
3.7.1. Should be moved to the bottom
3.8. Current Topics, Trends, and Research
3.8.1. Hide
3.9. UL Gives Back: Summer Day of Service
3.10. New to UL
3.10.1. Should be #1
3.11. Share Your Program Idea
3.11.1. Can be last
3.12. Radical Chats
3.13. Graduate Staff Academy
4. Calendar
4.1. Calendar is currently Google Calendar. And will be updated by Fatiha.
5. Committees
5.1. Committee Structure
5.1.1. Awards and Recognition
5.1.1.1. Need to update name list
5.1.2. Community Building and Service Committee
5.1.3. New to UL Committee
5.1.3.1. Patriot Partner is here. Are we duplicating another program?
5.1.4. Professional Symposium Planning
5.1.4.1. Is there a way to put past work as sample?
5.1.5. Supervision Collective Committee
5.1.5.1. Need to update name list
5.1.6. UL Gives Back: Summer Day of Service
5.1.6.1. content is old. need to update
5.1.7. Training and Development Committee
5.1.7.1. Need to provide name list of current committee
5.1.8. UL Social Network Committee
5.1.8.1. Need to provide details if we are going to revamp
6. About Us
6.1. PD Team description