Monarchy and the Establishment
by Kévin Phouthavong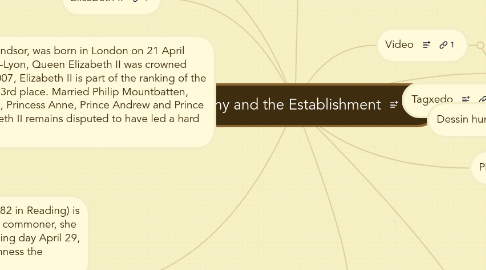 1. Glog
2. Photo
2.1. Photo of the royal family
3. Video
3.1. This video explain what is the role of the monarchy in the United Kingdom, it was made in 1992 (in three parts).
4. Tagxedo
5. Dessin humouristique
6. Elisabeth II
7. Elizabeth II, whose real name is Elizabeth Alexandra Mary Windsor, was born in London on 21 April 1926. Daughter of King George V and Lady Elizabeth Bowes-Lyon, Queen Elizabeth II was crowned Queen of England in Westminster Abbey June 2, 1953. In 2007, Elizabeth II is part of the ranking of the most powerful women in the world, where she reached the 23rd place. Married Philip Mountbatten, Queen Elizabeth II gave birth to four children: Prince Charles, Princess Anne, Prince Andrew and Prince Edward. Central character of the British family, Queen Elizabeth II remains disputed to have led a hard life to Lady Diana.
8. Who's Elisabeth II ?
9. Catherine Middleton
10. Catherine "Kate" Elizabeth Middleton (born 9 January 1982 in Reading) is the wife of Prince William, Duke of Cambridge. Originally commoner, she became a member of the British royal family on her wedding day April 29, 2011. Since, it is known as the predicate of His Royal Highness the Duchess of Cambridge.
11. Prince William, Duke of Cambridge
12. Prince William, (born 21 June 1982), is the elder son of Charles, Prince of Wales, and Diana, Princess of Wales, and third-eldest grandchild of Queen Elizabeth II and Prince Philip, Duke of Edinburgh. He is second in the line of succession, behind his father, to the thrones of sixteen independent sovereign states known as the Commonwealth realms
13. Photo of the royal wedding
14. By Kevin and Margaux