PURPOSE OF EDUCATION
by
Katie Widgeon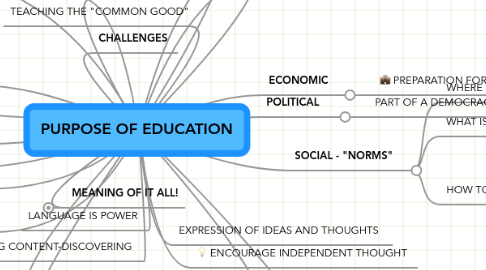 0.0
stars -
0
reviews range from
0
to
5
PURPOSE OF EDUCATION
CREATING A SAFE SPACE AND TIME FOR STUDENTS TO REALLY LEARN!
LEARNING MYSELF- ENLIGHTENMENT
BEING A PART OF THE FUTURE GENERATIONS
GUIDANCE AND ENCOURAGEMENT FOR CHILDREN/STUDENTS
TRUTH VS. CIRRICULUM
CAREFUL WITH "POPULAR NORMS"
DIVERSTIY OF SOCIOECONOMIC STATUS
DUALISTIC APPROACH- SAFE VS. DANGEROUS SITUATIONS
TEACHING STUDENTS OF DIFFERENT RELIGIONS
URBAN SETTINGS
TEACHING MULTICULTURAL STUDENTS
TEACHING THE "COMMON GOOD"
ENCOURAGE INDEPENDENT THOUGHT
UNCOVERING CONTENT-DISCOVERING
EDUCERE- TO LEAD
EXPRESSION OF IDEAS AND THOUGHTS
LANGUAGE IS POWER
ECONOMIC
PREPARATION FOR THE WORKFORCE
SOCIAL - "NORMS"
WHERE DOES ONE FIT INTO SOCIETY?
WHAT IS ACCEPTABLE VS. NOT ACCEPTABLE?
HOW TO SOCIALIZE AND INTERACT IN A DIVERSE WORLD
POLITICAL
PART OF A DEMOCRACY
TOOLS OF EDUCATION
ASSESSMENT/EVIDENCE OF UNDERSTANDING
CIRRICULUM/CONTENT
PEDAGOGY-LEARNING AND TEACHING THEORY
MEANING OF IT ALL!
CREATING A SAFE SPACE AND TIME FOR CHILDREN TO REALLY
CHALLENGES
METHOD OF COMMUNICATION