Best Practices for Professional Collaboration
by
Lindsey Knowles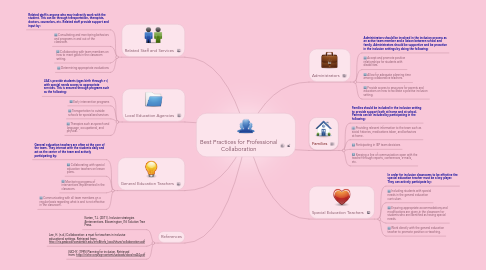 0.0
stars -
0
reviews range from
0
to
5
Best Practices for Professional Collaboration
Plan your life and the next important steps and goals to proceed with a happy life.
Related Staff and Services
Related staff is anyone who may indirectly work with the student. This can be through transportation, therapists, doctors, counselors, etc. Related staff provide support and input by:
Administrators
Administrators should be involved in the inclusion process as an active team member and a liaison between school and family. Administrators should be supportive and be proactive in the inclusion settings by doing the following:
Accept and promote positive relationships for students with disabilities.
Allow for adequate planning time among collaborative teachers.
Provide access to resources for parents and educators on how to facilitate a positive inclusion setting.
Families
Families should be included in the inclusion setting to provide support both at home and at school. Parents can be included by participating in the following:
Special Education Teachers
In order for inclusion classrooms to be effective the special education teacher must be a key player. They can actively participate by:
Local Education Agencies
LEA's provide students (ages birth through 21) with special needs access to appropriate services. This is ensured through programs such as the following:
General Education Teachers
General education teachers are often at the core of the team. They interact with the students daily and act as the center of the team and actively participating by:
References
Karten, T.J. (2011). Inclusion strategies &interventions. Bloomington, IN: Solution Tree Press.
Lee, H. (n.d.) Collaboration: a must for teachers in inclusive educational settings. Retrieved from: http://iris.peabody.vanderbilt.edu/infoBriefs_local/shure/collaboration.pdf
NICHY. (1995) Planning for inclusion. Retrieved from: http://nichcy.org/wp-content/uploads/docs/nd24.pdf