Beginning Teachers Competencies
by Koh Yan Ling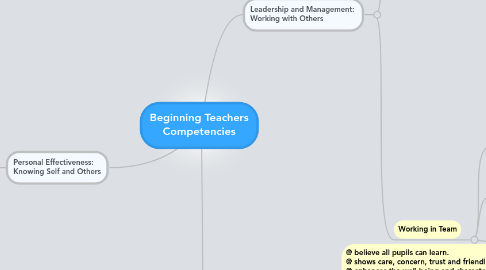 1. Professional Practice: Nurturing the whole child
1.1. @ believe all pupils can learn. @ shows care, concern, trust and friendliness @ enhances the well being and character development of pupils
1.2. The Whole Child Is a Resilient Child
1.2.1. resilience strength
1.2.1.1. social
1.2.1.1.1. the need for love and belonging
1.2.1.2. emotional
1.2.1.2.1. the need for respect and power
1.2.1.3. cognitive
1.2.1.3.1. the need for challenge and mastery
1.2.1.4. moral/spiritual
1.2.1.4.1. the need for meaning
2. Leadership and Management: Working with Others
2.1. Partnering Parents
2.1.1. Connecting With Parents
2.1.1.1. Making Parents Allies and Helpers
2.1.1.2. Maximise the learning of 
pupils
2.1.1.3. Volunteering in School
2.1.1.4. Parents Make a Difference
2.1.2. Tips for Working With Parents
2.1.2.1. Contact parents early on and before a problem occurs, particularly when there's good news to report
2.1.2.2. Consider writing a weekly newsletter or report on classroom learning and activities
2.1.2.3. Invite parents to come into the classroom and assign them tasks if they are willing
2.1.2.4. Involve them in reading groups and remedial assistance when possible, being aware that all parents may not read or write English
2.1.2.5. Let parents know how they can reinforce classroom learning at home; consider asking them to sign a contract requiring them to make children complete homework and other home learning activities
2.1.2.6. Visit families in their homes if possible to see firsthand how well learning is supported there
2.1.2.7. Address parents' concerns head on.
2.1.2.8. Hold a parent meeting the first month of the school year in which you talk about your expectations for student achievement and behavior, leave time for questions, and if you don't know the answer promise to call soon with one.
2.2. Working in Team
2.2.1. seeks out opportunities for professional collaboration within and beyond the school. 

2.2.1.1. Constant improve and upgrade professionism
2.2.1.2. teachers not only teach, but also learn as well.
2.2.2. cooperates with and supports colleagues
2.2.2.1. always lend a helping hand. work as a team, not one man show.
2.2.3. shares information and good ideas
2.2.3.1. create resource pool for teaching.
2.2.3.2. always good to brainstorm together.
2.2.4. expresses positive expectations of others
2.2.4.1. motivate and spur each other on
2.2.4.2. keep the passion for teaching burning.
2.2.5. speaks positively of team members.
2.2.5.1. build team spirit.
2.2.6. Be humble and able to receive opinions of other
3. Personal Effectiveness: Knowing Self and Others
3.1. Tuning into self
3.1.1. Self Inventory
3.1.1.1. What did I do today?
3.1.1.2. What did I feel today?
3.1.1.3. What am I grateful for today?
3.1.1.4. What challenged me today?
3.1.1.5. How can I overcome that challenge?
3.1.2. work-life balance
3.1.2.1. gives time to self
3.1.2.2. routines like playing sport, catching up with friends
3.2. Exercising personal Integrity and legal responsibilities
3.2.1. professionalism
3.2.2. code of conduct
3.2.3. uphold image as a teacher
3.3. Understanding and respecting others
3.3.1. values diversity
3.3.2. sensitive and accept cultural and religious difference
3.4. Resilience and adaptability
3.4.1. A resilient teacher needs to be flexible
3.4.2. Don't stress if things don't go as planned and always have something up your sleeve in case a lesson finishes early!
3.4.3. adapts with enthusiasm and optimism to a new teaching area
3.4.4. remain positive over the long term
3.4.5. maintain a professional and positive approach to their work
3.4.6. take on board new ideas and suggestions and view these as constructive assistance, not criticism.
3.4.7. we are all lifelong learners
3.4.8. A resilient teacher is one who doesn't sweat the small stuff.
3.4.9. let the little things go' and look to the future.