Cyberwellness QED527 TG2
by
Ashley Tan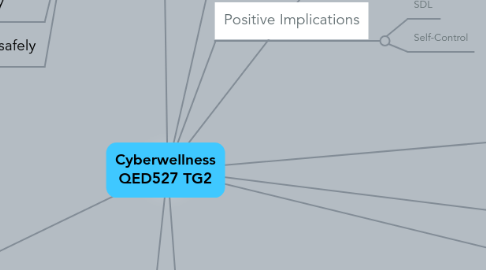 0.0
stars -
0
reviews range from
0
to
5
Cyberwellness QED527 TG2
Definition
-Encompassess concerns around safety and security online.
-Consider people psychological,social and emotional well being.
cyberwellness - having a healthy mindset in the virtual reality
use the internet safely
Why we need it
To ensure that internet is a safe medium especially for the young.
Practise respect and responsibility.
Strike a balance beyond the internet.
selection of useful information
protection of one's mental health/capacity to think
teenagers and adolescents are still not mature enough to know what is right or wrong. We need a framework to guide them along.
developing the child's instinct to protect himself and empower him to take responsibility for his own well-being in cyberspace.
instill social responsibility
The students will be aware that there are laws to abide to even online
Concepts
cybersex
cyberscam
game addiction
pornography
plagiarism
social network
illegal file-sharing/downloading
information overload
online gambling
computer security
invasion of privacy (stalking people)
online shopping
How to implement it in schools
Involving parents
through lessons
exhibitions
projects
counselling
Seminar for Cyber Wellness
Cyber Wellness Guidebooks
practices in school computer labs
Positive Implications
SDL
Self-Control
being aware of the dangers posed by the internet as it is readily available to everyone
Increased Efficiency in learning/working
Respect for others
Learn new knowledge