Big Data-Driven Desicions 24 april 2013 - Bob Nieme
by
Alexis van Dam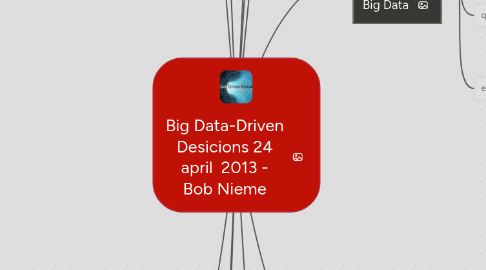 0.0
stars - reviews range from
0
to
5
Big Data-Driven Desicions 24 april 2013 - Bob Nieme
advertisment
Adobe & IBM producten
web analytics > digiatal analytics
web analytics: is complex
agenda
1 uitdagingen
2 data is nieuwe olie
3 big data paradigma shift
4 context van data
5 create business value
Bob Nieme
bio
zie de overige mindmaps
TU Eindhoven
spin in web op gebied van Big Data
@bnieme
Big Data
bestaat niet
beeld
NOS gaat op Koningsdag onze methode inzetten
quote
ecosysteem
voorspellende modellen
dataperspectief
customer centric selling
hyper connected economy
socialmedia but why?
internet of things
alles via browser
the grid
van ruwe olie > rafinage
data is nieuwe olie
quotes
oude technologie is niet meer toepasbar
big data (wiki)
fatamorgana in data
stappen
cybersecurity programma: wordt omvangrijk
quote: "I have no special talent i am only passionately curious" (Albert Einstein)
alle info verzamelen, we kunnen het later nodig hebben
volgende winkel open door walmart obv gedrag van mensen
tunnel van data
feiten en figuren
http:// bedacht door Tim Berner Lee
privacy is een recht bescherming obv inbreuk
no context of data
the world of data
google: minder trusted
privacy
big 4: alle data verzamelen
model
big data analytics
3 P's
datascientist - sexy beroep
http://www.slideshare.net/mjft01/big-data-landscape-version-20
BD analyse
word clouds
atributie modellen
weet op welk vakgebied je iets wilt veranderen
socialmedia is nu
framework model
conclusie
veel sleutels
thx fr yr ttntn
Q&A
Q: kunnen consumenten ook big data toepassen
Q: welke diensten doen het goed?
Q: hoe moeten we de big data handelen, CEO betrekken?