Charles Baker "Dill" Harris
by Sonja Katsivelis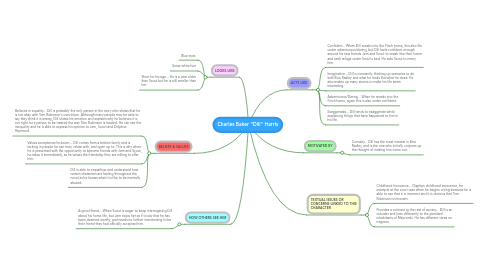 1. BELIEFS & VALUES
1.1. Believes in equality... Dill is probably the only person in the story who shows that he is not okay with Tom Robinson's conviction. Although many people may be able to say they think it is wrong, Dill shows his emotion and explains why he believes it is not right for a person to be treated the way Tom Robinson is treated. He can see the inequality and he is able to express his opinion to Jem, Scout and Dolphus Raymond.
1.2. Values acceptance/inclusion... Dill comes from a broken family and is lacking in people he can trust, relate with, and open up to. This is why when he is presented with the opportunity to become friends with Jem and Scout, he takes it immediately, as he values the friendship they are willing to offer him.
1.3. Dill is able to empathise and understand how certain characters are feeling throughout the novel as he knows what it is like to be mentally abused.
2. ACTS LIKE
2.1. Confident... When Dill sneaks into the Finch home, this also fits under adventurous/daring, but Dill feels confident enough around his new friends Jem and Scout to sneak into their home and seek refuge under Scout's bed. He asks Scout to marry him.
2.2. Imaginative... Dill is constantly thinking up scenarios to do with Boo Radley and what he looks like/what he does. He also makes up many stories to make his life seem interesting.
2.3. Adventurous/Daring... When he sneaks into the Finch home, again this is also under confident.
2.4. Exaggerates... Dill tends to exaggerate while explaining things that have happened to him in his life.
3. MOTIVATED BY
3.1. Curiosity... Dill has the most interest in Boo Radley, and is the one who initially conjures up the thought of making him come out.
4. HOW OTHERS SEE HIM
4.1. A good friend... When Scout is eager to keep interrogating Dill about his home life, but Jem stops her as if to say that he has been deemed worthy, and needs no further interviewing to be their friend-they had officially accepted him.
5. LOOKS LIKE
5.1. Blue eyes
5.2. Snow white hair
5.3. Short for his age... He is a year older than Scout but he is still smaller than her.
6. TEXTUAL ISSUES OR CONCERNS LINKED TO THIS CHARACTER
6.1. Childhood Innocence... Displays childhood innocence, for example at the court case when he begins crying-because he is able to see that it is incorrect and it is obvious that Tom Robinson is innocent.
6.2. Provides a contrast to the rest of society... Dill is an outsider and lives differently to the standard inhabitants of Maycomb. He has different views on negroes.