浴火重生:明天過後的職場生態 last updated: 091017
by
Benny Chin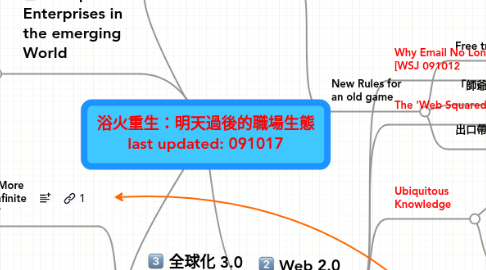 0.0
stars -
0
reviews range from
0
to
5
浴火重生:明天過後的職場生態 last updated: 091017
全球化 3.0 的未來趨勢
Excerpt: "Involuntary entrepreneurship" is now creating tens of thousands of small businesses and a huge market of contract and freelance labor. Many will take full-time jobs again once they become available, but many others will choose not to. The crisis may have turned our economy into small pieces, loosely joined, but it will be the collective action of millions of workers hungry for change that keeps it that way....
Rise of the Global Middle Class
Web 2.0
Ubiquitous Knowledge
Cloud computing: 經營成本下降,效能大增
The rise of cloud computing means that young firms no longer have to buy their own IT equipment, which helps them avoid having to raise money or take on debt.
分散式資訊網絡
這篇文章更「激」,作者 Kevin Kelly 提出,未來世界將是一個透過網上協作(online collaboration)而產生的新社會主義社會(New Socialism),具備了 sharing, cooperation, collaboration, and collectivism 的特色, 如下: Power distributed among ad hoc participants Unlimited, free cloud computing Volunteer group work a la Wikipedia Sharing protected by Creative Commons Real-time Twitter and RSS feeds Passionate opinions on the Huffington Post
金融海嘯 G.0
New Rules for an old game
  Excerpt:   Internet technology makes rich exchanges possible without the need for formal structures. The nonlinear dynamics of this new information ecosystem are challenging the traditional structures of enterprise. In fact, a recent study from IBM's Global Innovation Outlook suggests that the future might consist of a billion one-person enterprises—people who act as free agents moving freely and frequently from project to project as their skills, focus, and passion shift.
  Excerpt:   "Schooling has confused us into thinking learning was equivalent to pouring content into people's heads. It's more practical to think of learning as optimizing our networks." Optimized human intuition networks create a meaningful context within which content can be consumed and digested to create new value. In the Webvolution era, content may be king, but context is the kingdom.
LinkedIn's Hoffman, CEO of LinkedIn, explains how he views World 2.0: LinkedIn improves the life of professionals Everybody is an entrepreneur, owner of one's own small business: capacity to take risk Key to getting out of the economic downturn: Entrepreneurship, network Future and role of social networking Big idea waiting to bet on: Accelerating productivity because of Web 2.0 tools.  Everybody will be on mobile Network of intelligence: Driving force of the future  
To get work done in this networked, Web 2.0 environment, a more resilient organizational framework is required, like wirearchy (a dynamic two-way flow of power and authority based on information, knowledge, trust and credibility, enabled by interconnected people and technology). Based on such an open framework, support functions like HR have to figure out how they can best help the organization. Here are some suggestions: Think and act at a macro level (what to do) and leave the micro (how to do it) to each worker or team. The little stuff is changing too fast. Engage with Web media and understand how they work. The Web is  too important to be left to IT, communications or outside vendors. Use social media to make work easier or more effective. Use them to solve problems for you. Make yourself and your function  redundant. Teach people how to fish and move on to the next challenge. If you're maintaining a steady state then you've failed to evolve with the organization and the environment.
Ministry as a Platform