Franz Liszt
by kate dalbey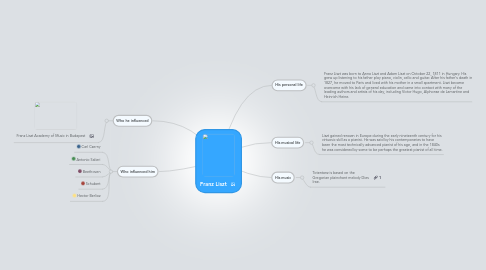 1. His personal life
1.1. Franz Liszt was born to Anna Liszt and Adam Liszt on October 22, 1811 in Hungary. His grew up listening to his father play piano, violin, cello and guitar. After his father's death in 1827, he moved to Paris and lived with his mother in a small apartment. Liszt became overcome with his lack of general education and came into contact with many of the leading authors and artists of his day, including Victor Hugo, Alphonse de Lamartine and Heinrich Heine.
2. His musical life
2.1. Liszt gained renown in Europe during the early nineteenth century for his virtuosic skill as a pianist. He was said by his contemporaries to have been the most technically advanced pianist of his age, and in the 1840s he was considered by some to be perhaps the greatest pianist of all time.
3. His music
3.1. Totentanz is based on the Gregorian plainchant melody Dies Irae.
4. Who he influenced
4.1. Franz Liszt Academy of Music in Budapest
5. Who influenced him
5.1. Carl Czerny
5.2. Antonio Salieri
5.3. Beethoven
5.4. Schubert
5.5. Hector Berlioz